The terrain of West Virginia provides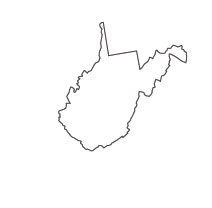 plenty of unique rides as lots of hills, twists and turns make for an exciting motorcycle trip through the mountaineer state. There are some important travelling tips to know when riding in the state. A helmet law applies to all riders at all times and there is also an eye protection law. Lane splitting is illegal in West Virginia and there is a certain amount of coverage that must be maintained on individual motorcycle insurance. West Virginia is home to more than 61,000 motorcycle owners and that number continues to increase. There are plenty of reasons to take up a motorcycle lifestyle in West Virginia as there are many bike-themed events, rides and rallies over the course of the year.
Steps to Becoming a West Virginia Motorcycle Mechanic
The process that leads to a career as a West Virginia motorcycle mechanic involves a series of detailed steps. Following each step will provide the necessary skill and knowledge level to thrive in the field of motorcycle repair. These five steps will also help motorcycle mechanics rise through the profession and establish a stable and productive career.
Choose a Motorcycle Mechanic Education Program
Go Through Admissions Process for Motorcycle Mechanic Program
Complete Coursework in Motorcycle Mechanic Program
Gain Work Experience
Attain Industry Certifications
Motorcycle mechanics in West Virginia can find work in motorcycle repair shops, motorcycle dealerships and centers that provide ATV and Powersports repair.
West Virginia Motorcycle Mechanic Education
Motorcycle mechanic training is available at select post-secondary schools throughout the country. West Virginia features a host of schools that offer this kind of training. The typical setting for motorcycle mechanic education combines a classroom environment and a work bay area. That combination allows students to learn motorcycle repair theory, in addition to motorcycle repair techniques. Combining concepts with actual repair work prepares students to take on a motorcycle mechanic entry-level position upon their graduation.
Programs differ in design and course requirements, although most are centered around the same principles. These programs are different than auto mechanic education program as the concentration is on small engine repair. Here is a look at some educational options for motorcycle mechanic training in West Virginia.
Southern West Virginia Community and Technical College
The Powersports Technology program at Southern awards students an Associate Degree of Applied Science upon the completion of 60 credit hours.
Boone/Lincoln Campus
3505 Daniel Boone Pkwy STE A
Foster, WV 25081-8126
Phone: 304-369-2952
Blue Ridge Community and Technical College
Blue Ridge offers small engine repair education that acclimates students to the essentials of two and four-stroke engine repair.
13650 Apple Harvest Dr
Martinsburg, WV 25403
Phone: (304) 260-4380
West Virginia Motorcycle Mechanic Education Admissions
Most post-secondary schools do not have an extensive admissions process for their motorcycle mechanic education programs. The admissions process is usually very similar to the admissions process all other students must follow. One of the most common requirements is a high school diploma or GED equivalency. Some programs require applicants to contact them directly to complete the admissions process. Individual policies differ according to each post-secondary school.
Motorcycle Mechanic Work Experience in West Virginia
Gaining work experience is essential for motorcycle mechanics in West Virginia. This phase usually follows the educational portion of their journeys. Some work experience is gained via apprenticeships which are offered by some motorcycle repair establishments. The purpose of work experience is to acclimate new motorcycle mechanics to the profession. A motorcycle repair setting provides a valuable learning environment, which can be utilized by mechanics of all experience levels. Work experience is also a job qualification. Many motorcycle mechanics attain a certain position because of their prior work experience. Since there are limited certification options available in the motorcycle repair industry, work experience is highly valued. The more work experience a motorcycle mechanic acquires, the greater the chances are for career advancement. Work experience can be acquired in a motorcycle repair shop, motorcycle dealership or any other setting that conducts this type of repair. For motorcycle mechanics interested in gaining work experience in West Virginia, the following locations could serve as potential places of employment:
Motorcycle Manufacturer Specific Training
Most motorcycle mechanic education programs teach general motorcycle repair. However, there are a limited number of programs that offer specific training on one brand of motorcycles. This designation is known as manufacturer specific training and helps motorcycle mechanics gain a mastery of repair on one line of motorcycles. This is often perceived as a valuable asset by motorcycle mechanics. It can provide employment at a specialized dealership or repair shop, but it can also broaden the credentials of a motorcycle mechanic. Here is a look at the manufacturers that offer specific training on their individual brands:
Harley Davidson
Kawasaki
Yamaha
BMW
Suzuki
Honda
West Virginia Motorcycle Mechanic Salary
The U.S. Bureau of Labor Statistics reports data each year on the salaries earned by motorcycle mechanics in each state. When factoring in annual salaries, it is important to note that there are ways for motorcycle mechanics to earn more on an annual basis. Work experience, prior education, and industry certifications can influence annual pay rates. Cost of living is also something to consider when comparing salary amounts to other states. Here is a look at the reported data for West Virginia motorcycle mechanic salaries.
State of West Virginia
Top 10% Salary: $45,720 ($21.98 per hr)
Median Salary: $23,660 ($11.37 per hr)
Huntington
Top 10% Salary: $46,530 ($22.37 per hr)
Median Salary: $19,600 ($9.42 per hr)
North Central West Virginia
Top 10% Salary: $51,540 ($24.78 per hr)
Median Salary: $23,050 ($11.08 per hr)
West Virginia Motorcycle Mechanic Employment Trends
Employment numbers for motorcycle mechanics in West Virginia continue to remain consistent. Certain areas employ more motorcycle mechanics than others and those seeking out employment should consider location as a primary factor. Numbers for the entire state are favorable as there is no indication that there is going to be any kind of significant drop-off in motorcycle mechanic employment in West Virginia.
Motorcycle Mechanic Certification
The Equipment & Engine Training Council (EETC) is a name that those entering into the motorcycle repair industry should get to know. This is the organization that controls the certification process for those involved with small engine repair. Motorcycle mechanics fall into this category and can up their status by achieving a certification distributed by the EETC. This will help them to separate from the competition in the job market.
Becoming certified by the EETC is a process that involves passing a certification test that is typically 150 questions in length. A score of 70% or above is needed to earn a certification. Once a certification has been issued, it remains in good standing for a period of five years. After that time, a motorcycle mechanic can choose to renew that certification by taking a recertification test. Motorcycle mechanics typically seek out certifications from the EETC in two and four-stroke repair. These two distinctions are commonly held by experienced and accomplished motorcycle mechanics.
The significance of an EETC certification shows itself during the job-seeking process. Motorcycle mechanics can elevate themselves in the race for a position by showing additional qualifications. There are no state certifications in West Virginia for motorcycle mechanics. That has led motorcycle mechanics to seek out other avenues for ongoing education. An EETC certification indicates that a motorcycle mechanic has a knowledge level that exceeds the industry average. It can also provide a boost to motorcycle mechanics who are looking to negotiate a higher salary.