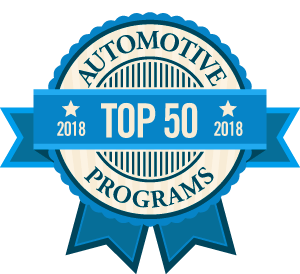 Maybe you've got that entrepreneurial spirit and always wanted to open your own auto shop. Maybe you've always had a knack for how everything works under the hood of a car and instead of giving away free advice, you're ready to get paid for your skills. Or, maybe you're just tired of earning minimum wage and looking for a career change altogether. Whatever career goals have led you to consider pursuing an associate's degree in automotive technology, it's a wise decision. But, if you want a dealership to take more than just a passing glance at your resume, you're going to need some solid automotive training and industry certification too.
While you know that an automotive technology degree is a key to unlocking your career goals, you're still probably grappling with the same question – which degree program do you choose? You've likely been scanning the internet looking for a reputable school with all the major highlights . . . a nationally-recognized program, strong ties to the local automotive community, one that offers an affordable tuition and helps put you into the job of your dreams. And, with such a large selection of automotive degree and certificate programs available to you, selecting a school can be very overwhelming.
We've tried to simplify that daunting task for you by assessing the quality of the automotive degree and certificate programs nationwide. We looked at every school in the United States that holds accreditation with the National Automotive Technicians Education Foundation (NATEF). Our goal was to provide prospective students with the most relevant, up-to-date information that would help them find the automotive degree program ideally suited to their needs.
Of course, any program accredited by the NATEF is going to include courses covering the eight core areas of ASE certification: Engine repair, automatic transmission and transaxle, manual drive train and axles, suspension and steering, brakes, electrical/electronic systems, heating, ventilation, and air conditioning, and engine performance. But, we know that there's more than that to an all-around, comprehensive educational experience. So, we took our analysis a step further and looked for colleges that offered things like:
Our picks were chosen entirely on the quality of the school and the programs that they offer. So, here you will find the results of our search – our top picks for the best associate degree program in automotive technology in each state.
---
---
ALABAMA
ALASKA
ARIZONA
ARKANSAS
CALIFORNIA
COLORADO
CONNECTICUT
DELAWARE
DISTRICT OF COLUMBIA
FLORIDA
GEORGIA
HAWAII
ILLINOIS
INDIANA
IOWA
KANSAS
KENTUCKY
LOUISIANA
MAINE
MARYLAND
MASSACHUSETTS
MICHIGAN
MINNESOTA
MISSISSIPPI
MISSOURI
MONTANA
NEBRASKA
NEVADA
NEW JERSEY
NEW HAMPSHIRE
NEW MEXICO
NEW YORK
NORTH CAROLINA
NORTH DAKOTA
OHIO
OKLAHOMA
OREGON
PENNSYLVANIA
RHODE ISLAND
SOUTH CAROLINA
SOUTH DAKOTA
TENNESSEE
TEXAS
UTAH
VERMONT
VIRGINIA
WASHINGTON
WEST VIRGINIA
WISCONSIN
WYOMING