Washington, D.C. has a high volume of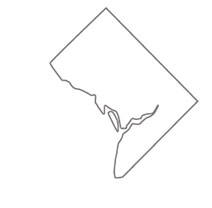 traffic throughout the entire year. This includes motorcycles that are registered to owners who live in the District of Columbia, but it also includes travelers going up and down the northeast corridor. That can make for quite a bit of traffic as DC is on par with Los Angeles for average commuter delays. While out on the road, it is also important to know that the District of Columbia has a motorcycle helmet law that covers all riders, regardless of age. Because of the small size of the District of Columbia, the surrounding areas provide a lot of services available to motorcycle owners. Northern Virginia and parts of Maryland border Washington, D.C., and that means repair and service can be completed with just a brief trip into one of the neighboring states.
District of Columbia Motorcycle Mechanic Education
Residents of the District of Columbia, who are seeking out an education in motorcycle repair, can look to the nearby areas for options. The size of Washington, D.C. prohibits an extensive amount of trade schools and technical colleges from setting up shop within the district. That has forced student to look beyond the D.C. border to find a motorcycle mechanic education program.
The programs that are available to students combine the process of classroom instruction and hands-on learning in a repair setting. This combination will equip students with the proper skills needed for small engine diagnosis and repair. Here is a look at some of the motorcycle mechanic education programs located within a short distance from Washington, D.C.
Prince George's Community College
The Motorcycle Repair and Technician Program at PGCC awards a certificate to those who complete the required coursework. The program offers continuing education credits and classes are available at night.
301 Largo Rd
Largo, MD 20774
Contact: Tony Marra
Phone: 301-546-0650
Email: TDI@pgcc.edu
College of Southern Maryland

The small engine repair program at the College of Southern Maryland concludes with the awarding of a certificate of completion. The campus is located about a half hour drive south of Washington D.C.
183 College Drive
De Queen, AR 71832
Phone: (870) 584-4471
District of Columbia Motorcycle Mechanic Education Admissions
The admissions process for entering into a motorcycle mechanic education program is typically a standard one. This means it is the same for students applying to other programs at a post-secondary school. One of the most common general requirements is a high school diploma or GED equivalency. Some community and technical colleges also require new students to be 18 years of age or older. When seeking out information about the admissions process to a motorcycle mechanic education program, it is best to direct any questions to the specific program at the individual school.
Motorcycle Mechanic Work Experience in District of Columbia
Work experience as a motorcycle mechanic helps to build on the skills and technical training acquired in a motorcycle repair program. Work experience may also prove to be extremely valuable when looking for a new place of employment. The value of a motorcycle mechanic often comes with the amount of work experience that has been accumulated. Encountering all different small engine issues enables motorcycle mechanics to become more adept at their craft. Work experience is also used as leverage when attempting to settle the terms for a motorcycle mechanic position. The District of Columbia is home to a limited amount of motorcycle repair shops, although there are some right near the border in the adjacent states. Here is a look at the local businesses that can provide work experience to motorcycle mechanics.
Crossroads Cycle
5715 Leesburg Pike, Falls Church, VA 22041
Hours: Closed ⋅ Opens 10AM
Phone: (703) 820-3711
Coleman Powersports
435 S Washington Street
Falls Church, VA 22046
Phone: (703) 237-3400
Motorcycle Manufacturer Specific Training
The ability to work on motorcycles is a unique skill in itself. However, those skills can be enhanced with the ability to diagnose specific engine problems on certain brands of motorcycles. Manufacturer specific training on certain brands of motorcycles increases a mechanic's standing in the industry. It is a skill that can be used to obtain employment at a repair shop that caters to the repair of one type of motorcycle brand. This training can also be used as a way to prove a mechanic has reached an advanced level of skill. These programs are limited throughout the country and here is a look at which manufacturers feature specific training programs.
Harley Davidson
Kawasaki
Yamaha
BMW
Suzuki
Honda
District of Columbia Motorcycle Mechanic Salary
The salary of a motorcycle mechanic is determined by different factors. The first factor that plays a key component in that annual amount is the work experience that has been previously attained by a motorcycle mechanic. The second factor focuses on the level of training a motorcycle mechanic has received. This could be boosted by earning certifications that are specific to the industry. Lastly, the final and most important factor in a motorcycle mechanic's salary is the location and type of repair shop. A motorcycle repair shop in the District of Columbia will demand higher prices than some repair shops in other cities. Here is a look at the pay rate for motorcycle mechanics in the District of Columbia compared to the average pay on a national level.
District of Columbia
Top 10% Salary: $60,680 ($29.17 per hr)
Median Salary: $37,890 ($18.22 per hr)
United States
Top 10% Salary: $56,350 ($27.09 per hr)
Median Salary: $34,720 ($16.69 per hr)
District of Columbia Motorcycle Mechanic Employment Trends
The District of Columbia has the smallest concentration of registered motorcycles in the country. All 50 states have much higher numbers of motorcycles registered with their Department of Motor Vehicles. However, there remains a need for motorcycle mechanics in the D.C. area. The median salary for an experienced D.C. area motorcycle mechanic continues to rise, which has enabled this profession to grow because of its promising future.
Motorcycle Mechanic Certification
Certifications in the motorcycle repair industry are distributed by an organization called the Equipment & Engine Training Council (EETC). This organization is entrusted with certifying mechanics in small engine repair. This is a different distinction than the certifications issued by the National Institute for Automotive Service Excellence. The ASE features almost 50 certifications for auto mechanics, although it has yet to create a single certification for motorcycle mechanics.
The EEET certification can be used as a means of showing a motorcycle mechanic's commitment to the profession. A certification indicates additional effort put into passing an exam that shows a motorcycle mechanic to possess above-average skills and technical knowledge. The hiring process for motorcycle mechanics is controlled by each repair shop. There is no certification that is required across the industry. Motorcycle mechanics are free to work without any type of certification whatsoever. Nevertheless, it does benefit all motorcycle mechanics to earn some form of certification.
The EETC certifies mechanics in a number of areas, including two, three, and four-stroke repair. Ongoing education of all types is something that can endear motorcycle mechanics to prospective employers. Not only will additional education and certifications improve a motorcycle mechanic's technical knowledge, but it will also improve the value of a resume in this line of work.