The automotive industry in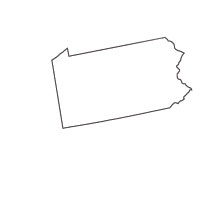 Pennsylvania is widespread as it is home to approximately 32,000 auto mechanic jobs. That ranks fifth among all states and there is continual job growth with more new openings throughout the state each year. Pennsylvania has a unique makeup as there are some very rural urban areas, with some big cities as well. The one constant is the abundance of auto mechanics and the auto industry also have several state associations. This has led to the advancement of the Pennsylvania auto industry as a whole. The auto industry has deep roots in Pennsylvania with one of the first auto mechanic training programs established in Philadelphia during the early twentieth century.
Pennsylvania Auto Mechanic Education
The journey to becoming a Pennsylvania auto mechanic starts with an education at one of the state's post-secondary schools that specialize in automotive technology training. There are degree, diploma and certificate options available at community colleges, technical colleges and career learning centers. Students can select a program that best matches their lifestyle and price range. Admissions differ among schools, although standards are generally not too rigorous.
In these programs, students learn the fundamentals of auto repair and build their foundation of skill and knowledge. Completing one of these programs enables graduates to enter the profession as a Pennsylvania auto mechanic. There is also the option of continuing that education as auto mechanics can enhance their status with more training. Here is a glimpse of a few auto mechanic education programs from around the state of Pennsylvania.
Community College of Philadelphia
CCP provides a number of certificate programs as well as non-credit options for mechanics looking to expand their knowledge base.
4731 Ludlow St
Philadelphia, PA 19139
Phone: (267) 299-5873
E-mail: autotech@ccp.edu                                           
Lincoln Technical Institute
Career training programs are available in Automotive Technology and Automotive Service Management at Lincoln Tech.
9191 Torresdale Avenue
Philadelphia, PA 19136
Phone: (215) 335-0800
Rosedale Technical College
Rosedale Tech provides a variety of options to choose from and a large number of work bays where students receive hands-on instruction from ASE certified instructors.
170 Bilmar Dr
Pittsburgh, PA 15205
Phone: (412) 521-6200
York County School of Technology
The program and curriculum at York County have both been accredited by the NATEF as it offers comprehensive training in a host of areas.
2179 S. Queen St.
York, PA 17402
Phone 717-741-0820
Delaware County Community College
The certificate program at Delco requires the completion of 20 credit hours and prepares students to obtain entry level positions as auto mechanics.
901 S. Media Line Rd
Media, PA 19063
Phone: (610) 359-5000
Pennsylvania Auto Mechanic Work Experience
Work experience continues the progression of an auto mechanic who has just finished up a training program. Many training programs offer assistance with job placement and some even have long-standing relationships with local repair shops. Work experience is key to earning an ASE certification as there is a quota that mechanics must satisfy before qualifying to even take an exam. To pass certification exams, auto mechanics need to connect concepts with actual repair. It is difficult to earn a passing mark by just studying theory and procedure. Real world auto repair helps auto mechanics to gain a better understanding of the overall job. Gaining work experience in Pennsylvania means having to choose a place of employment. There are numerous workplaces to choose from and here is a closer look at some of the more esteemed auto repair shops in the Keystone State.
Pennsylvania EPA 609-Refrigerant Certification
The process of motor vehicle air conditioner (MVAC) repair and service can only be done by auto mechanics who hold the appropriate certification. That certification can be attained by passing an exam that is given by the EPA (Environmental Protection Agency). In order to pass the exam, auto mechanics must earn an 84% score or better. The certification is known as a 609-refrigerant certification, which also allows auto mechanics to make purchases of regulated refrigerants in smaller-sized quantities. The EPA has not instituted its own training program, although there are several ones around the country. Since the certification exam is taken online, auto mechanics can utilize training programs to prepare for the test. Here are a few of the 609-refrigerant certification training programs available to auto mechanics.
ESCO Institute
P.O. Box 521
Mount Prospect, IL 60056
Phone: (847) 253-2220
Pennsylvania ASE Certifications
In the auto repair profession, the National Institute for Automotive Service Excellence (ASE) is an organization that is widely known and respected. The ASE is responsible for certifying mechanics and these certifications are viewed as a stamp of approval. Auto mechanics who earn certifications become more appealing job candidates and carry more credibility. There are currently more than 40 certifications available to auto mechanics. Once a certification is earned, it must be renewed every five years by taking a recertification exam, which is about half the length of the original certification exam. Auto repair shops hold certifications in high esteem and often advertise their business as one that employs ASE certified mechanics. Auto mechanics are eligible to receive more than one certification and can eventually work their way up to master status by accumulating individual certifications in a specific category. Auto mechanics interested in ASE certifications have the option of selecting from the following:
Auto Maintenance and Light Repair Certification Test (G1)
Automobile & Light Truck Certification Tests (A Series)
Collision Repair & Refinish Certification Tests (B Series)
Damage Analysis & Estimating Certification Test (B6)
Automobile Service Consultant Certification Test (C1)
Truck Equipment Certification Tests (E Series)
Alternate Fuels Certification Test (F1)
Transit Bus Certification Tests (H Series)
Advanced Engine Performance Specialist Certification Test (L1)
Electronic Diesel Engine Diagnosis Specialist Certification Test (L2)
Light Duty Hybrid/Electric Vehicle Specialist Test (L3)
Engine Machinist Certification Tests (M Series)
Parts Specialist Certification Tests (P Series)
School Bus Certification Tests (S Series)
Medium-Heavy Truck Certification Tests (T Series)
Undercar Specialist Exhaust Systems Test (X1)
ASE certification exams must be taken at an ASE test center. There is no online option, as auto mechanics are required to visit a testing location. When an exam is scheduled, auto mechanics are informed of the proper documentation they need to bring on that test date. There is a detailed process to follow as the ASE mandates that auto mechanics adhere to the proper testing protocol.
Here is a portion of the Pennsylvania ASE test centers:
Test Center #0020
Philadelphia - Walnut Street
601 Walnut St.
Curtis Center, Suite 150 West
Philadelphia, Pennsylvania 19106
(215) 238-8410
Test Center #1705
Pittsburgh - Coporate Drive
5700 Corporate Dr. Suite 400
Pitts. Research Park
Pittsburgh, Pennsylvania 15237
(412) 367-4620
Test Center #7413
Prometric Satellite Center
Bedford County Technical Center
195 Pennknoll Road
Everett, Pennsylvania 15537
(814) 624-4812
Test Center #1709
Allentown, PA
3500 Winchester Rd.
Suite 402
Allentown, Pennsylvania 18104
(610) 336-1714
Test Center #7130
Prometric Satellite Center
CPI
540 North Harrison Rd
Pleasant Gap, Pennsylvania 16823
(814) 359-2793   Ext 203
Manufacturer Certification Training in Pennsylvania
An auto mechanic who is manufacturer certified has achieved a higher level of skill when it comes to working on a specific brand of vehicles. Manufacturer certifications are available from companies like Toyota, Ford, GM, Audi, Chrysler and a host of others. These companies have instituted certain types of training protocol which is carried out by post-secondary schools across the country. Students can enroll in one of these programs and become certified to work on a specific brand of cars and trucks. Dealerships that specialize in the sale of one brand of vehicles regularly hire auto mechanics who are manufacturer certified. Here is an overview of some of the manufacturer specific training programs located in the state of Pennsylvania:
Subaru University
Western Montgomery Career and Technology Center
77 Graterford Rd.
Limerick, PA 19530
Phone: 610-489-7272
Ford Asset Program
Pennsylvania College of Technology
One College Avenue
Williamsport, PA 17701
Contact: John Cuprisi
Phone: 570-326-3761 X 7859
Email: jcuprisi@pct.edu
Toyota T-Ten Program
Universal Technical Institute
750 Pennsylvania Drive,
Exton, PA, 19341
Contact: Roslyn Young
Phone: (610) 458-5595
Chrysler Mopar
Northampton Community College
3835 Green Pond Rd
Bethlehem, PA 18020
Phone: (610) 861-5300
Pennsylvania Auto Mechanic Salary
There is a broad range of salaries for auto mechanics employed in the state of Pennsylvania. Urban and rural settings play a part in determining annual auto mechanic salaries while certification and experience level also have a role. The U.S. Bureau of Labor Statistics reports the median salary of a Pennsylvania auto mechanic at $35,870 annually. Those statistics also showed the top 10% of auto mechanics in Pennsylvania earn a salary of $59,750 per year. There is room for advancement as an auto mechanic salary in Pennsylvania can make for a comfortable life. Here are some various auto mechanic salaries in Pennsylvania, according to location.
Philadelphia
Top 10% Salary: $67,580 ($32.49 per hr)
Median Salary: $41,580 ($19.99 per hr)
Reading
Top 10% Salary: $60,950 ($29.30 per hr)
Median Salary: $35,750 ($17.19 per hr)
Pittsburgh
Top 10% Salary: $58,940 ($28.34 per hr)
Median Salary: $32,350 ($15.55 per hr)
Harrisburg
Top 10% Salary: $57,230 ($27.51 per hr)
Median Salary: $36,640 ($17.62 per hr)