Oklahoma is such a large state that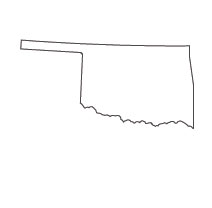 motorcycling routes are broken down into different areas. For instance, the top five best routes in Eastern Oklahoma provide different experiences than the best routes in the southern part of the state. The good news is that there is always somewhere new to ride. When riding, it is important to know that the Oklahoma helmet law only applies to riders 17 years of age and younger. There is also a motorcycle presence throughout the state of Oklahoma. There are places that custom make motorcycles in the state and distribute them on a national basis. And plenty of selection is available when it comes to selecting a motorcycle repair setting and that indicates more job opportunities for motorcycle mechanics of all experience levels.
Steps to Becoming an Oklahoma Motorcycle Mechanic
There is a detailed five-step plan for rising though the motorcycle mechanic profession. This process covers all the areas important to motorcycle mechanics and is a way of ensuring a long and productive career. Here are five simple steps that will take you from beginner to veteran motorcycle mechanic.
Select a Motorcycle Mechanic Education School
Complete Admissions Process to Motorcycle Mechanic Program
Finish Educational Requirements in Motorcycle Mechanic Training
Gain Work Experience
Become Industry Certified
A motorcycle mechanic may find work in repair shops, dealerships, powersports centers or auto repair centers that also cater to the repair of motorcycles.
Oklahoma Motorcycle Mechanic Education
A motorcycle mechanic education Oklahoma begins at a post-secondary school the features this kind of specialized training. Programs are divided into classroom portions and practical sessions in which the learning is hands-on. The goal of this combination is to supply students with adequate technical skill and knowledge. Motorcycle Theory and small engine mechanics give students the foundation of knowledge needed in this field.
The hands-on portion of training provides a way of learning how to conduct motorcycle repair. The design of small engines is different than that of automotive engines and requires a specific type of training program. Here is a look at the motorcycle mechanic education options offered to those within the state of Oklahoma.
Central Tech
The Powersports Technology program at Central Tech features a complete line of courses that will equip students with the necessary skills to enter the field of motorcycle repair.
3 CT Circle
Drumright, OK
918-352-2551
Tulsa Tech
Students have the option of earning a Motorcycle Technician Certificate from Tulsa Tech while day and night classes are both available.
Broken Arrow Campus
4000 W. Florence
Broken Arrow, OK 74011
Phone: 918-828-3000
Vatterott Educational Center
The Powersports Technology program at Vatterott provides instruction on the service and repair of small engines and power equipment.
4343 S. 118th E. Ave, Suite A
Tulsa, OK 74146
Phone: 918-835-8288
Oklahoma Motorcycle Mechanic Education Admissions
Gaining successful admission to a post-secondary school that offers motorcycle mechanic training involves a process that is specific to each school. One of the most frequent requirements among post-secondary schools offering this type of training is a minimum education requirement of a high school diploma or GED equivalency. There are schools that include minimum age requirements which is typically 18 years. Some schools offer financial aid options and that component is typically discussed and decided upon during the admissions stage.
Motorcycle Mechanic Work Experience in Oklahoma
Work experience for motorcycle mechanics is a way to constantly learn on the job. Motorcycle mechanics looking to obtain work experience can seek out employment in a variety of settings. Motorcycle repair shops are the most common environment for mechanics to work. Motorcycle dealerships also employed mechanics who are entrusted with the service and repair of motorcycles made by all different manufacturers. Work experience heightens the overall credibility and recognizability of a motorcycle mechanic. When seeking out a position as a motorcycle mechanic, work experience is a commonly sought-after component for those who are looking to hire and new mechanic. Work experience can validate a motorcycle mechanic's qualifications as work history often tells the story of a career in this profession. Here is a look at some Oklahoma work settings where a motorcycle mechanic can gain experience:
The Toolbox
39504 W 45th St
Shawnee, OK 74804
Phone: (405) 275-2453
Motorcycle Manufacturer Specific Training
Becoming trained to work on a specific kind of motorcycles is a valuable commodity. This is not commonplace, mainly because post-secondary schools rarely offer motorcycle manufacturer specific training programs. In the event that a motorcycle mechanic does complete this form of training, it immediately bolsters appeal and status in the profession. Motorcycle mechanics work on all types of motorcycles in most repair settings. This type of training can lead to a position where a motorcycle mechanic works on one brand of motorcycles. The listing below features the motorcycle manufacturers who provide specific training programs for motorcycle mechanics.
Harley Davidson
Kawasaki
Yamaha
BMW
Suzuki
Honda
Oklahoma Motorcycle Mechanic Salary
The U.S. Bureau of Labor Statistics is entrusted with the task of reporting annual salary amounts for all professions. Motorcycle mechanics are included in that data as the Bureau of Labor Statistics lists median and top salaries for motorcycle mechanics in every state. There is a differentiation of salary amounts, according to location within every state. However, these statistics do separate salaries based upon work experience or type of repair setting. Here is a look at what motorcycle mechanics earn on an annual basis in the state of Oklahoma and in a couple of its major cities.
State of Oklahoma
Top 10% Salary: $49,760 ($23.92 per hr)
Median Salary: $35,670 ($17.15 per hr)
Oklahoma City
Top 10% Salary: $39,060 ($18.78 per hr)
Median Salary: $34,460 ($16.57 per hr)
Tulsa
Top 10% Salary: $55,170 ($26.52 per hr)
Median Salary: $38,750 ($18.63 per hr)
Oklahoma Motorcycle Mechanic Employment Trends
Employment for Oklahoma motorcycle mechanics has maintained a steady pace. That pace is just higher than the national average for job growth among motorcycle mechanics. There is an approximate 1% increase in motorcycle mechanic jobs within the state of Oklahoma every year. This also includes those who leave the profession as new jobs are not just created with the expansion of motorcycle repair shops in Oklahoma. The outlook remains positive for those interested in pursuing a future as an Oklahoma motorcycle mechanic.
Motorcycle Mechanic Certification
In any profession, there is a need to rise through the ranks and establish a greater level of credibility. In the motorcycle repair industry, certifications are a way of accomplishing that and are available through the Equipment & Engine Training Council (EETC). This organization does not issue specific motorcycle repair certifications, although it does offer certifications in the two-stroke, three-stroke and four-stroke varieties. This applies directly to motorcycle mechanics and the ability to earn one of these certifications is a way of showcasing an above-average skill level.
EETC certification tests feature 150 questions and require test-takers to earn a score of at least 70%. An EETC certification will last 5 years and then motorcycle mechanics must engage in the renewal process. This consists of a recertification test which must also be passed. EETC certifications have become the industry standard for motorcycle mechanics all over the country.
When applying for a motorcycle mechanic job, it is important to list as many credentials as possible. The fact that all motorcycle repair shops design their own hiring requirements forces applicants to show as much value as possible. EETC certifications are a way of showing that value and separating applicants from the rest of the pack. State motorcycle certifications do not exist, so it is important to attain certifications that will help motorcycle mechanics on a professional level. It is not mandatory to hold one of these certifications in order to work in the state of Oklahoma, but attaining a certification is strongly recommended by most motorcycle repair experts.