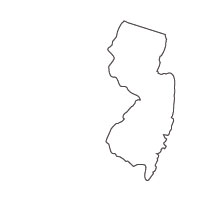 New Jersey is the most densely populated state and the means there is no shortage of auto repair businesses. Becoming an auto mechanic in New Jersey opens up a career that is in high demand and also comes with competitive pay and long-term job stability. The average salary of a New Jersey auto mechanic is well above the national average as the top 10% earn extremely generous salaries. The New Jersey auto repair business generates an annual amount of $33.4 billion, according to Auto Outlook Inc. New Jersey is also one of the last remaining states where the law requires that an attendant to pump gas for vehicle owners at service stations.
New Jersey Auto Mechanic Education
A New Jersey auto mechanic education is available at many different post-secondary schools that offer Associate Degree and Certificate programs. There is also the option of earning Manufacturer Certified training degrees and certificates. These programs combine classroom instruction with practical experience that allows students to learn in an auto repair shop setting. The time frame for each program differs and the cost of in-state tuition has made an auto mechanic education very affordable.
Each program has minimum guidelines for admission while coursework is similar. Students are trained and tested in a wide array of auto repair areas, which equips them with the skills needed to begin working right out of school. Most of these programs provide job placement assistance to graduates once the necessary coursework is completed. The curriculums are also geared towards building a foundation for eventually being able to sit for various ASE certification exams. Here are some of the auto mechanic education programs located in New Jersey.
Brookdale Community College
There are three degree and five certificate programs offered in the Automotive Technology program at Brookdale Community College.
765 Newman Springs Road
Lincroft, NJ 07738-1543
732-224-2345                                                              
Union County Community College
Students can attend the Automotive Technology program at Union County and earn an Associate Degree of Applied Science.
1033 Springfield Avenue
Cranford, NJ 07016
(908) 709-7000
Mercer County Community College
The Mercer County campus features an Automotive Technology Associate Degree program and a specialized Chrysler MOPAR program.
Trenton Campus
102 N. Broad Street
Trenton, NJ 08608
609-586-4800  
Pennco Tech
Pennco Tech's automotive career curriculum prepares auto mechanics to enter into the profession with the necessary skills as part of its certificate program.
99 Erial Rd
Erial, NJ 08012
Phone: (856) 232-0310
Camden County College
There are Associate Degree and certificate options available through Camden County and students can also receive specialized training on GM automobiles.
311 College Drive
Blackwood, NJ 08012
Phone: 856-227-7200 ext. 4382
Auto Mechanic Work Experience in New Jersey
Work experience for an auto mechanic continues the training that is offered at a post-secondary institution. This experience allows auto mechanics to put all the concepts and skills they learned into practice. This process also fulfills a requirement to sit for an ASE certification exam. Before auto mechanics can become certified, they must acquire a certain amount of work experience in a professional auto repair setting. Work experience exposes auto mechanics to several types of auto repair. This begins an exciting journey in the auto repair industry and helps bolster a mechanic's chances of earning higher pay rates. When it comes time to select a place of employment, the state of New Jersey has plenty of options, which includes the following repair shops:
MTB Auto Repair
246 Fries Mill Road
Turnersville, NJ 08012
Phone: (856) 245-7201
BSE Automotive
218 W Elizabeth Ave
Linden, NJ 07036
Phone: (908) 862-9071
EPA 609-Refrigerant Certification
The Environmental Protection Agency requires auto mechanics to have a certain level of knowledge to work on MVAC (motor vehicle air conditioner) systems. To earn a certification, an auto mechanic must earn a score of 84% or more on a specialized refrigerant examination given by the EPA. This certification allows auto mechanics to work on MVAC systems and also grants them the right to purchase regulated refrigerants. The EPA oversees the certification exam, which can be taken online. There are preparatory courses auto mechanics can take to help them pass the exam. Below are a few of the 609-refrigerant certification training programs that can be completed from home.
ESCO Institute
P.O. Box 521
Mount Prospect, IL 60056
Phone: (847) 253-2220
ASE Certifications in New Jersey
The National Institute for Automotive Service Excellence (ASE) is a name that needs no introduction in the automotive industry. This association is responsible for issuing more than 40 certifications, which represent an advanced level of knowledge in certain types of auto repair and service. An ASE certification holds great weight when applying for an auto mechanic position. It is viewed as an industry credential that shows auto mechanics have reached a certain level of accomplishment. In order to earn an ASE certification, auto mechanics must acquire a specified amount of work experience and also pass an ASE exam. The certifications are good for five years before a recertification exam must be passed. However, those recertification exams are only about half as long as the originals. Acquiring multiple certifications can result in a mechanic earning master status. Auto mechanics may choose to earn a certification in these following areas:
Auto Maintenance and Light Repair Certification Test (G1)
Automobile & Light Truck Certification Tests (A Series)
Collision Repair & Refinish Certification Tests (B Series)
Damage Analysis & Estimating Certification Test (B6)
Automobile Service Consultant Certification Test (C1)
Truck Equipment Certification Tests (E Series)
Alternate Fuels Certification Test (F1)
Transit Bus Certification Tests (H Series)
Advanced Engine Performance Specialist Certification Test (L1)
Electronic Diesel Engine Diagnosis Specialist Certification Test (L2)
Light Duty Hybrid/Electric Vehicle Specialist Test (L3)
Engine Machinist Certification Tests (M Series)
Parts Specialist Certification Tests (P Series)
School Bus Certification Tests (S Series)
Medium-Heavy Truck Certification Tests (T Series)
Undercar Specialist Exhaust Systems Test (X1)
Taking an ASE certification exam requires auto mechanics to visit an individual testing site.  New Jersey features a host of test centers throughout the state. When visiting a test center, auto mechanics are required to bring the necessary identification and documentation. Here are some the ASE test centers in New Jersey:
Test Center #5858
New Jersey - Clark
100 Walnut Ave
Suite 301
Clark, New Jersey 07066
(732) 381-8500
Test Center #0033
New Jersey - Fairlawn
3300 Broadway (Rt 4)
Suite 205
Fairlawn, New Jersey 07410
(201) 475-1670
Test Center #7101
Prometric Satellite Center
5080 Atlantic Ave
Atlantic County Institute of Technology
Mays Landing, New Jersey 08330
(609) 625-2249   Ext 1212
Test Center #4101
Laurel Springs
1381 Chews Landing Road Bldg 5
Chews Landing Commons
Laurel Springs, New Jersey 08021
(856) 228-0387
Test Center #4113
Central New Jersey - Hamilton
1 AAA Drive
Suite 202
Hamilton Township, New Jersey 08610 
(609) 890-2724
Manufacturer Certification Training in New Jersey
A manufacturer certified auto mechanic is someone who has been trained to work on vehicles made by a specific car company. This can lead to a career working for an individual dealership that specializes in selling a specific brand of vehicles. Many auto mechanics who take on these jobs are compensated with very competitive pay rates. This type of training involves detailed instruction on vehicles made by one manufacturer. There are training programs offered at colleges throughout the United States, while some companies have their own training centers. Auto mechanics can select from an array of companies, including Ford, Mazda, Honda and more. These programs vary in length, although all are considered to be rather comprehensive. Here is a glimpse at the various manufacturer certification training programs in New Jersey:
Rowan College at Gloucester County
1400 Tanyard Road
Sewell, NJ 08080
Contact: Jeff Silvestri
Phone: 856-468-1445 EXT.2210
Email: Jsilvestri@rcgc.edu
New Jersey Auto Mechanic Salary
New Jersey is one of the better paying states in the country for auto mechanics. Only three other states feature higher average salaries for auto mechanics., according to the U.S. Bureau of Labor Statistics. Those statistics reveal that the median salary of an auto mechanic in New Jersey is $44,980 annually. The highest-paid auto mechanics in New Jersey make some of the top salaries in the country in this industry. Here is a look at some auto mechanic salaries from all around the state of New Jersey.
Newark
Top 10% Salary: $87,570 ($42.10 per hr)
Median Salary: $50,790 ($24.42 per hr)
Ewing
Top 10% Salary: $70,670 ($33.98 per hr)
Median Salary: $50,930 ($24.49 per hr)
Atlantic City
Top 10% Salary: $63,310 ($30.44 per hr)
Median Salary: $47,140 ($22.67 per hr)
Camden
Top 10% Salary: $71,080 ($34.17 per hr)
Median Salary: $46,780 ($22.49 per hr)