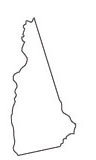 A career as an auto mechanic in New Hampshire has the potential to turn into an upward path of career advancement. There are no automotive plants located anywhere in the state of New Hampshire. However, there are still upwards of 15,000 jobs that are related to the auto industry. The average age of vehicles on New Hampshire roads is 9.6 years while the state's Department of Safety oversees all motor vehicle agencies. Being an eco-friendly state has propelled pollution prevention efforts, making New Hampshire one of the leaders in this area. There continues to be new auto mechanic jobs each year as New Hampshire's growth for mechanics is consistent with the national average.
New Hampshire Auto Mechanic Education
In the state of New Hampshire, there are different options for those looking to pursue an education in automotive technology. There are certificate programs offered by community and technical colleges that can last a year in length. There are also two-year options that conclude with the awarding of an Associate Degree of Applied Science. Each of these programs are designed to train students in the finer parts of auto repair.
Classroom instruction provides knowledge and theory while students also take a hands-on approach during the practical portion of the program. This consists of participating in repair and service on vehicles under the direction of a program instructor. Entering into the job market is much easier with a diploma, certificate or degree from a post-secondary school that features an auto mechanic education program. It is in those institutions that auto mechanics begin to work on their craft. Here are a handful of auto mechanic education programs that are based in the state of New Hampshire.
Lakes Region Community College
There are degree and certificate options at LRCC with weekend and evening courses available as part of the Automotive Technology program.
379 Belmont Rd
Laconia, NH 03246
Phone: (603) 524-3207                                                
Manchester Community College
There are certificate and degree options, in addition to a host of manufacturer specific training programs.
Manchester Community College
1066 Front Street
Manchester, NH, 03102-8528
Phone: (603) 206-8000
Nashua Community College
The automotive technology program at Nashua offers reasonable tuition rates with a comprehensive curriculum and makes the claim that it's not your average program.
505 Amherst St,
Nashua, NH 03063
Phone: 603 578-8908
Email: nashua@ccsnh.edu
White Mountains Community College
The Associate Degree and certificate options come are built around qualifying students to take ASE examinations and this program also features instruction on state-of-the-art equipment.  
2020 Riverside Drive
Berlin, NH 03570
Phone: (603) 752-1113
Concord Regional Technology Center
The Concord Center is home to an Automotive Technology program that awards students a variety of certifications.
170 Warren Street
Concord, NH 3301
Contact: Scott Mayotte
Phone: (603) 225-0800
Auto Mechanic Work Experience in New Hampshire
Work experience as a New Hampshire auto mechanic is a requirement when attempting to earn an ASE certification. Working in an auto repair setting helps new mechanics acclimate to the profession while also building up a font of knowledge in automotive repair. The ASE certification exams present scenarios that are difficult to understand without having worked on vehicles in the past. Auto mechanics also need to build their credibility once they graduate from an auto mechanic education program. This is done by going right to work for an auto repair service, as it helps to sharpen the skills mechanics learn in a training program. New Hampshire houses a vast amount of auto repair shops and here is a closer look at some of the potential places of employment throughout the state:
Zak's Auto
24 Hampshire Drive
Hudson, NH 03051
Phone: (603) 943-7682
EPA 609-Refrigerant Certification
Working on motor vehicle air conditioner (MVAC) systems requires very precise training and handling of refrigerants that are used as a cooling component. In response, the EPA has established a certification that ensures the safe handling of all facets of MVAC repair. All auto mechanics must achieve a passing score on the EP-609 refrigerant exam to earn a certification. This will permit mechanics to perform repair and service on MVAC units, and it will also grant them the right to purchase small containers of regulated refrigerants. The EPA has taken over this area of certification and auto shops not complying with these rules may face heavy fines. The exam can be taken online and there are programs to help auto mechanics prepare for the material they will see. Here are a few 609-refrigerant certification training programs auto mechanics can take, regardless of where they are located:
ESCO Institute
P.O. Box 521
Mount Prospect, IL 60056
Phone: (847) 253-2220
ASE Certifications in Hampshire
Auto mechanics looking to advance their careers should get familiar with the National Institute for Automotive Service Excellence (ASE). This association has established over 40 auto mechanic certifications. Those who have earned one of these distinctions are recognized as auto mechanics with an above-average skill level. ASE certification exams are put together by a panel of experts, with each question being specifically researched and designed to test a mechanic's knowledge in a specific area of auto repair. Auto mechanics can start building certifications, which enhance an individual's overall credibility. Many auto repair shops post signs that their mechanics are ASE certified. This is something that is a major selling point to customers. Multiple certifications in the same category can lead to master mechanic status. Auto mechanics can boost their value by earning ASE certifications, some of which are as follows:
Auto Maintenance and Light Repair Certification Test (G1)
Automobile & Light Truck Certification Tests (A Series)
Collision Repair & Refinish Certification Tests (B Series)
Damage Analysis & Estimating Certification Test (B6)
Automobile Service Consultant Certification Test (C1)
Truck Equipment Certification Tests (E Series)
Alternate Fuels Certification Test (F1)
Transit Bus Certification Tests (H Series)
Advanced Engine Performance Specialist Certification Test (L1)
Electronic Diesel Engine Diagnosis Specialist Certification Test (L2)
Light Duty Hybrid/Electric Vehicle Specialist Test (L3)
Engine Machinist Certification Tests (M Series)
Parts Specialist Certification Tests (P Series)
School Bus Certification Tests (S Series)
Medium-Heavy Truck Certification Tests (T Series)
Undercar Specialist Exhaust Systems Test (X1)
To qualify for an ASE certification exam, auto mechanics must meet the necessary work requirements. That is followed by adhering to the protocol for ASE testing, which requires proper documentation be brought to a test center. There are strict regulations for the exam process and they must be followed precisely. Auto mechanics who qualify to sit for an ASE certification exam can take their respective test at one of the following test centers in New Hampshire:
Test Center #5148
Concord - Whitney Road
2 Whitney Rd.
Suite 24
Concord, New Hampshire 03301
(603) 753-0061
Test Center #7441
Prometric Satellite Center
River Valley Community Coll
One College Place
Claremont, New Hampshire 03743
(603) 542-7744
Test Center #4001
Portsmouth, NH
100 Arboretum Dr
Suite 120
Portsmouth, New Hampshire 03801
(603) 334-4081
Manufacturer Certification Training in New Hampshire
There are certifications available for auto mechanics to work specifically on certain brands of vehicles. Auto mechanics can join a program that offers specialized instruction on a certain brand of vehicles. Training programs of this kind are available in New Hampshire, as auto mechanics can receive detailed instruction on repairing Ford, Toyota, GM, Chrysler and other brands of vehicles. These individual manufacturers are on the constant lookout for new auto mechanics who are trained to work on all those makes and models. When vehicles are purchased from a dealership, car owners often return for service and repair. Part of the reason for their continued business is because dealerships are typically staffed with a team of manufacturer-certified auto mechanics. This provides car owners with a greater sense of security, knowing that a credible and aptly-trained mechanic will be servicing their vehicles. Auto mechanics who undergo this kind of training are usually very well-received in the automotive repair industry. Here are the manufacturer specific certification programs in New Hampshire:
Toyota T-Ten Program
Lakes Region Community College
379 Belmont Rd
Laconia, NH 03246
Phone: (603) 524-3207
Chrysler Mopar Program
Manchester Community College
1066 Front Street
Manchester, NH, 03102-8528
Phone: 603 668-6706 Ext 219
New Hampshire Auto Mechanic Salary
Auto mechanics in New Hampshire earn a median salary of $40,310 annually, although the top 10% of auto mechanics in the state make an average income of $63,490 per year, according to the U.S. Bureau of Labor Statistics. These estimates apply to auto mechanics in general and do not account for individual certifications, experience or other factors that could impact pay rates. Location also plays a key role in those average annual amounts, as there are New Hampshire auto mechanics who make a broad range of salaries. Here is a look at the auto mechanic salaries for various parts of New Hampshire.
Manchester
Top 10% Salary: $65,990 ($31.72 per hr)
Median Salary: $45,240 ($21.75 per hr)
Nashua
Top 10% Salary: $60,940 ($29.30 per hr)
Median Salary: $41,380 ($19.89 per hr)
Portsmouth
Top 10% Salary: $74,060 ($35.61 per hr)
Median Salary: $40,950 ($19.69 per hr)
Northern New Hampshire
Top 10% Salary: $59,400 ($28.56 per hr)
Median Salary: $38,540 ($18.53 per hr)