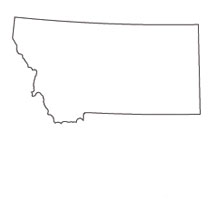 Starting out as an auto mechanic in Montana can lead to a prosperous and rewarding career. Montana is an exciting and interesting place to live for a variety of reasons. Nicknamed the treasure state, Montana has no sales tax which is excellent for car aficionados. Many classic car owners will go as far as to register and store their exotic cars in Montana.  Part of this is because 46 of Montana's 56 counties are considered frontier counties, which is classified by having a population of six or less people per square mile. Montana also has a higher than average growth rate for auto mechanics. Each year, Montana sees more than a 1% increase in its number of employed auto mechanics.
Montana Auto Mechanic Education
The state of Montana offers different options for those looking to pursue a career as an auto mechanic. The first option takes two years to complete when students attend on a full-time basis. This pathway results in the awarding of an Associate Degree of Applied Science in Automotive Technology. The next option is to enter an Auto Mechanic Certificate program that generally takes one year to complete.
The differences in these two programs extend to the number of required classes. Associate Degree programs require the completion of general education classes while certificate programs focus only on automotive-related coursework. Both types of education feature classroom work along with hands-on instruction in an auto shop setting. Students apply their classroom instruction to the practical aspect of being an auto mechanic.
The cost of tuition is typically higher for associate degree programs because they are longer in duration. However, both of these educational options carry a great deal of credibility when applying for an auto mechanic position. Some schools even offer four-year Bachelor Degree programs in Automotive Technology, which is an even more comprehensive option. In each of these educational programs, students learn the essentials of auto repair. Montana is home to a variety of schools offering this type of education, including the following:
Montana Tech
The Montana Tech automotive technology program offers a certificate and associate degree options. Small class size provides a lot of individual attention from instructors.

1300 W. Park Street
Butte, MT 59701
Phone: 1-800-445-8324
City College Montana University of Billings
Students have the choice to enter into a one-year Applied Science Certificate program or joining a two-year Associate Degree Program in Automotive Technology.
3803 Central Avenue
Billings, Montana 59102
Phone:  406-247-3000
Montana State University Northern
There is both an Associate's and Bachelor's Degree option for students attending MSU-Northern and each program is NATEF certified.
P.O. Box 7751
Havre, MT 59501-7751
Brockmann 210
Contact: Wane Boysun
Phone: (406) 265-4179
Miles Community College
The auto technology program at Miles Community College offers both a certificate and associate of applied science degree options for students looking to pursue a career as an auto mechanic.
2715 Dickinson St.
Miles City, MT 59301
Phone: (406) 874-6100
Helena College
There are certificate and two-year degree programs offered in automotive technology and technical studies at Helena College.
Donaldson Campus
1115 N. Roberts Street
Phone: (406) 447-6900
Auto Mechanic Work Experience in Montana
Work experience as an auto mechanic in Montana provides more than just a steady source of income. Real world experience prepares auto mechanics to qualify for ASE certification examinations. Each certification requires a certain amount of experience in the automotive repair industry. Work experience is also valuable in broadening an individual's skillset, as on-the-job learning is a valuable component to becoming a seasoned and skilled auto mechanic. Here are some of the auto repair shops that are potential places of employment in the state of Montana.
J4 Automotive
3 South Lane Avenue
East Helena, MT 59635
Phone: (406) 227-8622
info@j4automotive.com
Tune Up
800 1st Ave. North
Great Falls, MT 59401
(406) 452-6022
EPA 609-Refrigerant Certification in Montana
The Environmental Protection Agency has made it mandatory that auto mechanics earn a certification to work on MVAC (motor vehicle air conditioner) units. When taking the exam, a grade of 84% or higher is considered a passing score. The 609 examination can now be taken online and auto mechanics can prepare for this material through a number of different training programs. There is no need to attend an onsite training program as distant learning options are available. Once a passing mark is achieved, auto mechanics will be able to service MVAC systems and purchase smaller-sized containers of regulated refrigerants. The EPA oversees all the regulations for MVAC service. Here are a few of the 609-refrigerant certification training programs throughout the country.  
ESCO Institute
P.O. Box 521
Mount Prospect, IL 60056
Phone: (847) 253-2220
ASE Certifications in Montana
The National Institute for Automotive Service Excellence (ASE) has instituted over 40 different certifications for auto mechanics. These certifications are a way of showing that an auto mechanic has attained a higher skill level in a particular area of service. Many auto repair shops feature ASE certifications as one of their selling points to customers. It comes with the connotation that mechanics are credible and reliable. In turn, many car owners feel more secure and comfortable taking their vehicles to a shop that employs ASE certified mechanics. Earning multiple certifications allows auto mechanics to earn the distinction of master technician. There are work experience requirements to suffice before an auto mechanic can be cleared to sit for an ASE exam. Auto mechanics seeking out certifications can choose from any of the following types of service:
Auto Maintenance and Light Repair Certification Test (G1)
Automobile & Light Truck Certification Tests (A Series)
Collision Repair & Refinish Certification Tests (B Series)
Damage Analysis & Estimating Certification Test (B6)
Automobile Service Consultant Certification Test (C1)
Truck Equipment Certification Tests (E Series)
Alternate Fuels Certification Test (F1)
Transit Bus Certification Tests (H Series)
Advanced Engine Performance Specialist Certification Test (L1)
Electronic Diesel Engine Diagnosis Specialist Certification Test (L2)
Light Duty Hybrid/Electric Vehicle Specialist Test (L3)
Engine Machinist Certification Tests (M Series)
Parts Specialist Certification Tests (P Series)
School Bus Certification Tests (S Series)
Medium-Heavy Truck Certification Tests (T Series)
Undercar Specialist Exhaust Systems Test (X1)
Taking an ASE certification exam must be done at an official ASE Test Center. There are locations throughout the entire United States and that extends to the state of Montana. Auto mechanics are required to bring the proper identification and credentials to a test center on the day they are scheduled to take an exam. Listed below are a few of the test centers located in Montana:
Test Center #3702
Helena
1075 N Rodney Street
Suite 110
Helena, Montana 59601
(406) 443-9205
Test Center #7412
Prometric Satellite Center
MSU College of Technology - Great Falls
2100 16th Ave. South Rm R275
Great Falls, Montana 59405
(406) 268-3711
Test Center #7544
ETS – University of Montana
Arthur Avenue
Lommasson Center154
Missoula, Montana 59812 
(406) 243-2175
Test Center #7449
Prometric Satellite Center
Flathead Valley Community College
777 Grandview Drive
Kalispell, Montana 59911
(406) 756-3832
Test Center #7106
Prometric Satellite Center
Montana State University Northern
300 11th West
Havre, Montana 59501
(406) 265-4134
Manufacturer Certification Training in Montana
A certification to conduct repair on a certain brand of vehicles can pave the way for a very successful career in the automotive repair field. This type of certification indicates that an auto mechanic is considered an expert in repairing a certain brand of vehicles. Certifications extend to Ford, Honda, General Motors and other vehicle manufacturers. Many car dealerships seek out the services of manufacturer certified mechanics as that is a major selling point to entice car owners to return for service and repair. Some vehicle owners prefer auto repair shops that utilize mechanics who have been trained to work on their specific brand of vehicle. Earning a manufacturer certification can open the door to a lot of job opportunities that typically come with respectable pay rates. Here is one of the manufacturer certification training programs available to Montana residents:
Ford Asset Program
Montana State University-Northern
300 West 11th Street
Havre, MT 59501
Contact: Joshua Meyer (406)-265-4162
Email: Joshua.Meyer3@Msun.edu
Montana is not home to a large amount of manufacturer certification training programs, although individual dealerships may choose to send an auto mechanic to a regional or national training center to earn this type of certification. For example, auto mechanics who qualify to train for a certification on Kia vehicles may be sent to the following location for training.
Montana Auto Mechanic Salary Page
Auto mechanics can earn very comfortable salaries in the state of Montana. Annual salary estimates are conducted across the country by the U.S. Bureau of Labor Statistics. However, these statistics do not identify level of experience or certification. In Montana, the median auto mechanic salary is $38,470 annually. However, there are locations in Montana that have higher paying salaries than that statewide average. Here is a glimpse of some of the varying auto mechanic salaries in Montana.
Billings
Top 10% Salary: $63,170 ($30.37 per hr)
Median Salary: $39,060 ($18.78 per hr)
Great Falls
Top 10% Salary: $50,210 ($24.14 per hr)
Median Salary: $34,220 ($16.45 per hr)
Eastern Montana
Top 10% Salary: $76,150 ($36.61 per hr)
Median Salary: $38,140 ($18.34 per hr)
Western Montana
Top 10% Salary: $57,900 ($27.84 per hr)
Median Salary: $38,720 ($18.64 per hr)