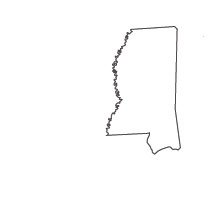 Mississippi's auspicious tax structure, prime geographic location, and low cost of doing business continues to attract major automotive companies like Nissan and Toyota to set up shop here. But when heavy-hitters like PACCAR and Tower International move into town, they need the state's skilled workforce to sustain their success. Recent findings by the Mississippi Development Authority indicate that more than 200 automotive-related manufacturers are employing over 20,000 workers. And as the state's automotive industry continues to gain momentum, the demand for good workers will likewise rise, making right now the perfect time to learn how to become an auto mechanic in Mississippi.
Mississippi Auto Mechanic Education
One of the strongest ways to start building a long-lasting and profitable career as an auto mechanic in Mississippi is by graduating from a postsecondary educational program in automotive technology. Most programs are one-year certificates and two-year associate degrees. By successfully completing a formal education program, auto mechanics can prove credibility in the field, help promote higher pay offers, and pave their way for ASE certification. Thankfully, Mississippi is home to more than a dozen reputable community and junior colleges hosting accredited auto mechanic programs. These are just a few such schools:
Mississippi Gulf Coast Community College
This schools offers students a certificate, diploma or an associate degree in automotive technology through its Jefferson Davis campus. Curriculum encompasses the diagnosis of malfunctions in all eight areas of ASE certification examination.
51 Main Street
Perkinston, Mississippi 39573
(866) 735-1122
Website
Hinds Community College
An automotive technology certificate program is available to students at this school's Rankin, Raymond, Utica, and Vicksburg campuses. Curriculum covers all eight ASE certification areas and provides great hands-on training from experienced instructors in lab settings.
608 Hinds Boulevard
Raymond, Mississippi 39154
(601) 857-5261
Website
Itawamba Community College
This school's Tupelo campus offers a certificate and an associate degree option in automotive technology. Students are taught the technical skills needed to properly diagnose, repair, replace, rebuild, and service vehicle parts and systems.
602 W Hill Street
Fulton, Mississippi 38843-1099
(601) 862-800
Website
Holmes Community College
Students enrolled here have access to a technical certificate, advanced certificate or an associate degree in automotive technology. Courses reflect ASE and NATEF educational standards to prepare students for jobs like auto technicians and service managers.
#1 Hill St
Goodman, Mississippi 39079
(662) 472-2312
Website
Pearl River Community College
The technical certificate and associate degree in automotive mechanics technology available at this school prepare students for the ASE certification exam, feature practical skills training at one of the top auto labs in the south, and use ASE certified instructors.  
101 Hwy 11 North
Poplarville, Mississippi 39470
(601) 403-1000
Website
Auto Mechanic Work Experience in Mississippi
Firestone Complete Auto Care
2821 N Hills St
Meridian, Mississippi 39305
(601) 453-1238
Wilson Auto Group
4200 Lakeland Drive
Flowood, Mississippi 39232
(601) 707-8955
Gray-Daniels ToyotaZ
104 Gray Daniels Blvd
Brandon, Mississippi 39042
(601) 863-8464
Goodyear Auto Service Center
1480 Canton Mart Rd
Jackson, Mississippi 39211
(601) 977-0811
Chase's Tire and Auto
217 W Central Ave
Petal, Mississippi 39465
(601) 283-5448
Mississippi ASE Certifications
Getting ASE certified is a sure-fire way to become a successful auto mechanics. Some states, like Mississippi, do not require auto mechanics to become state licensed to work. This lack of regulation leaves a vacuum for gauging a mechanic's technical capability. ASE certification fills this vacuum which is why many employers only hire certified candidates. Mechanics qualify for certification by completing between one and two years of work experience and education followed by examination. Examples of ASE certification examinations include:
Automobile & Light Truck Certification Tests (A Series)
Collision Repair & Refinish Certification Tests (B Series)
Damage Analysis & Estimating Certification Test (B6)
Automobile Service Consultation Certification Test (C1)
Truck Equipment Certification Tests (E Series)
Alternate Fuels Certification Test (F1)
Auto Maintenance & Light Repair Certification Test (G1)
Transit Bus Certification Tests (H Series)
Advanced Engine Performance Specialist Certification Test (L1)
Electronic Diesel Engine Diagnosis Specialist Certification Test (L2)
Light Duty Hybrid/Electric Vehicle Specialist Test (L3)
Engine Machinist Certification Tests (M Series)
Parts Specialist Certification Tests (P Series)
School Bus Certification Tests (S Series)
Medium-Heavy Truck Certification Tests (T Series)
Undercar Specialist Exhaust Systems Test (X1)
Mechanics that are ready for certification can schedule examinations by contacting one of the many test sites located throughout Mississippi:
Test Center #3605
1080 River Oaks Drive
Suite B-203
Flowood, Mississippi 39232
(601) 664-9960
Test Center #3606
72 Technology Boulevard
Ellisville, Mississippi 39437
(601) 578-3389
Test Center #7454
MDCC/Capps Technology Center
920 Highway 82 West
West Indianola, Mississippi 38751
(662) 887-2876
Test Center #7335
Meridian Community College
910 Highway 19 N
Webb Hall
Meridian, Mississippi 39307
(601) 481-1370
Test Center #7107
Pearl River Community College
101 Highway 11 North
Garvin H Johston Library
Poplarville, Mississippi 39470
(601) 403-1330
Manufacturer Certification Training in Mississippi
Some auto mechanics dream of working on cars designed by a certain manufacturer like Mercedes-Benz, Tesla or Ford so they gain manufacturer-specific training. By getting specialized training in how to diagnose and repair certain brands of cars, mechanics can become regarded as experts of that maker. This awesome news for employers that head manufacturer-specific auto dealerships and body shops in Mississippi, as well as the customers that frequent them. Postsecondary schools are a great place to find this type of training:
Northwest Mississippi Community College
Associate of Applied Science
Manufacturer-Specific Option: Chrysler
4975 Highway 51N
Senatobia, Mississippi 38668
(662) 562-3200
Website
Mississippi Auto Mechanic Salary
Gulfport-Biloxi-Pascagoula
Top 10% Salary: $52,550/yr. or $25.26/hr.
Median Salary: $31,610/yr. or $15.20/hr.
Hattiesburg
Top 10% Salary: $69,790/yr. or $33.55/hr.
Median Salary: $34,010/yr. or $16.35/hr.
Northeast Region Non-Metro
Top 10% Salary: $58,380/yr. or $28.07/hr.
Median Salary: $31,380/yr. or $15.09/hr.
Northwest Region Non-Metro
Top 10% Salary: $62,670/yr. or $30.13/hr.
Median Salary: $35,610/yr. or $17.12/hr.
Southeast Region Non-Metro
Top 10% Salary: $56,360/yr. or $27.10/hr.
Median Salary: $29,160/yr. or $14.02/hr.
Southwest Region Non-Metro
Top 10% Salary: $60,450/yr. or $29.06/hr.
Median Salary: $36,300/yr. or $17.45/hr.