The motorcycle representation in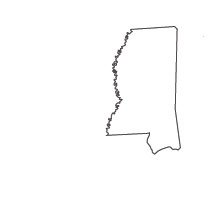 Mississippi is not the largest in the country, although there remains an avid community within the state. The number of motorcycles registered in Mississippi is the third lowest of all the states. Still, there remains a sizable Harley Davidson following in Mississippi with dealers, repair shops and clubs that are all centralized on that well-known brand of motorcycles. The year-round weather also makes every month motorcycle season in Mississippi. Motorcycle rides along the gulf coast of the state are taken by people from all over the country as it remains one of the more popular routes in the entire south. The South Clarksdale Loop, the Biloxi Figure 8 and the Down South Ride are three more popular rides in the state of Mississippi.
Steps to Becoming a Mississippi Motorcycle Mechanic
A Mississippi motorcycle mechanic has options when it comes to training, although following a specific process can lead to a quick transition into the profession. This training process is more abbreviated than other type of repair technician training and can be attained by completing the following steps in order.
Choose Motorcycle Mechanic Education Program
Complete Admissions Process to Motorcycle Mechanic School
Complete Requirements in Motorcycle Mechanic Training
Secure Work Experience
Fulfill Industry Certification Requirements
The life of a motorcycle mechanic in Mississippi is filled with all sorts of exciting job duties as custom installations, mounts and balances, and complete engine dismantling quickly become the norm.
Mississippi Motorcycle Mechanic Education
The path to becoming a motorcycle mechanic in the state of Mississippi runs through an education program that teaches the specifics of motorcycle technology and repair. This type of training is the best way to equip an aspiring motorcycle mechanic with the skills needed to thrive in this industry.
Motorcycle mechanic education is sometimes classified as Powersports technology or small engine repair. Either of those distinctions are acceptable in route to becoming a motorcycle mechanic. Those skills are what motorcycle mechanics use in their trade. The state of Mississippi is home to a number of motorcycle mechanics, many of which have acquired a formal type of training. Here is a look at the primary educational option for motorcycle mechanics in Mississippi.
Hinds Community College
The small engine repair program at Hinds offers a number of educational options in Powersports Technology. There is the option of earning a career certificate, a technical certificate or an Associate Degree of Applied Science. The program is certified by the EETC.
608 Hinds Blvd
Raymond, MS 39154
Phone: (601) 857-5261
Mississippi Motorcycle Mechanic Education Admissions
The admissions process for motorcycle mechanics is a relatively normal one. A high school diploma or GED equivalency is usually the extent of the requirements. There are some programs that require all applicants to be at least 18 years of age. Each program sets the specific parameters for their own admissions process. Contacting each school on an individual basis will give further clarification on what each admissions process entails.
Motorcycle Mechanic Work Experience in Mississippi
Work experience in Mississippi as a motorcycle mechanic can be acquired with the necessary training. Work experience is defined as being employed as a repair technician at a business that specializes in motorcycle repair. This could be classified as a repair shop that caters strictly to the service of motorcycles, or one that shares that kind of service with automobile repair. Work experience can also be acquired at a motorcycle dealership or custom service center that caters to the repair of one brand of motorcycles. Work experience serves as a valuable tool for all motorcycle mechanics. It strengthens the ability to diagnose engine issues and exposes mechanics to new problems each and every day. For the opportunity to gain work experience as a Mississippi motorcycle mechanic, the following businesses could potentially become possible places of employment.
Slop Shop
2737 Bluebird Trail NW
Brookhaven, MS 39601
Phone: (601) 506-9297
A & B Cycles
100 S Main St Ext
Petal, MS 39465
Phone: (601) 582-0162
Motorcycle Manufacturer Specific Training
Manufacturer specific training for motorcycle mechanics means that they will be taught the specifics of service and repair on one line of motorcycles. There are certain nuances that come with motorcycle repair on each brand. Those nuances help motorcycle mechanics to distinguish themselves as being above average members of this profession. This skill can also enhance their resumes and improve job prospects. It can land them a position at a repair center that services one brand of motorcycles. Here is a look at each of the motorcycle manufacturers that offer specific training, although it is available on a limited basis throughout the country.
Harley Davidson
Kawasaki
Yamaha
BMW
Suzuki
Honda
Mississippi Motorcycle Mechanic Salary
The pay rate for a motorcycle mechanic in Mississippi varies by location. The setting of a motorcycle repair business is also a determining factor. Custom installations typically require higher prices while ordinary repair service demands much lower fees. The location has a lot to do with the pay rate of a Mississippi motorcycle mechanic. The U.S. Bureau of Labor Statistics provides annual salary amounts for motorcycle mechanics in each state. Because Mississippi has a smaller population of motorcycle mechanics, those salaries are not broken down by city. However, here is a look at the statewide average.
State of Mississippi
Top 10% Salary: $57,830 ($27.80 per hr)
Median Salary: $35,790 ($17.21 per hr)
Mississippi Motorcycle Mechanic Employment Trends
While employment for motorcycle mechanics in Mississippi is not relatively high compared to other states, it continues to be on the rise. The smaller number of motorcycle owners in Mississippi has not catapulted the demand for motorcycle mechanics, yet there has been a steady increase in new jobs every year. For the 10-year span that will conclude in 2024, Mississippi will have seen a 7% growth in motorcycle mechanics, according to recent projections.
Motorcycle Mechanic Certification
A motorcycle certification can increase job opportunities while also raising pay rates on an annual basis. This type of certification is available through an organization called the Equipment & Engine Training Council (EETC). This organization is responsible for certifying mechanics who display the proper technical knowledge and skill in small engine repair. Four-stroke certifications are commonly acquired by motorcycle mechanics who pass the necessary requirements as specified by the EETC.
The state of Mississippi does not require its motorcycle mechanics to hold an EETC certification, or any other type of certification. The requirements for each individual motorcycle mechanic job are specified by each individual employer. It is up to each employer to set the criteria for the hiring process. That involves no limitations or stipulations, although motorcycle repair shops must adhere to certain safety standards.
The motorcycle repair industry is unlike the automotive repair industry, which offers more than 40 certifications for auto mechanics. Motorcycle mechanics have fewer options to choose from, although that does not negate the importance of holding an EETC certification. That certification bolsters the overall credentials of a motorcycle mechanic in Mississippi and can pave the way for new and exciting opportunities in the motorcycle repair industry.