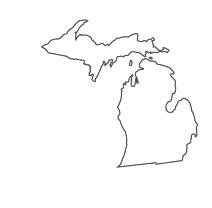 Michigan is once again proving that it's a huge powerhouse in the automotive industry—a powerhouse that relies on the strength of dedicated workers like auto mechanics to continue soaring. In fact, the Detroit Regional Chamber reports Michigan has produced more that 46,000 automotive manufacturing jobs since 2009, which is more than any other state in the nation. Michigan also houses 60 of North America's top 100 automotive suppliers. And to encourage more students to learn how to become an auto mechanic, the state has over 650 automotive-related postsecondary education programs to choose from.
Michigan Auto Mechanic Education
A popular way to learn how to become an auto mechanic in Michigan is through formal education. The United States Department of Labor indicates that the educational levels among auto mechanics in the state are as follows:
Less than a high school diploma: 17%
High school diploma or equivalent: 45%
Some college, no degree: 22%
Associate degree: 12%
Bachelor degree: 4%
These statistics reveal that auto mechanics that earn at least some postsecondary education can distinguish themselves from over 60% of those already in the field. Graduating from a formal education program is also a fast-track to getting ASE certification and state licensure which are imperative steps toward gainful employment. Students browsing for college programs are encouraged to enroll in one that is accredited by the National Automotive Technicians Education Foundation (NATEF) to ensure they are receiving the highest quality education available.
These are examples of postsecondary auto mechanic programs in Michigan:
Washtenaw Community College
This school offers an automotive services technician certificate program that prepares students for both ASE and state certification examinations. Curriculum instructs in topics like repair malfunctions, brakes, and electrical/electronic systems while students learn how to build actual performance vehicles.
4800 E. Huron River Drive
Ann Arbor, MI 48105-4800
(734) 973-3300
Website
Henry Ford College
This college's automotive technology programs includes six different certificate and associate degree programs designed to help students become automotive technicians, automotive master mechanics, and engine specialists. Students enrolled here receive loads of hands-on experience by practicing in the school's high-tech Auto Lab. 
5101 Evergreen Rd
Dearborn, MI 48128-1495
(313) 845-9600
Website
Mott Community College
This school's associate degree in automotive technology offers curriculum that encompasses 8 ASE areas and covers skills approved by the NATEF. Course examples include ignition and fuel systems, suspension and alignment, and advanced engine performance.
1401 E Court Street
Flint, MI 48503-2089
(810) 762-0200
Website
Grand Rapids Community College
The GRCC's nationally accredited automotive program offers a non-credit job training certificate, a one-year certificate, and an associate degree option. Students that complete the associate degree can qualify for Michigan Master Mechanic certification or transfer to a four-year institution like Ferris State University.
143 Bostwick Ave NE
Grand Rapids, MI 49503-3295
(616) 234-4000
Website
Northern Michigan University
This university provides one-year and two-year certificate in automotive service along with an associate degree in automotive service technology. Students here enjoy small class sizes that focus on hands-on learning in a laboratory setting using modern equipment. 
1401 Presque Isle Avenue
Marquette, MI 49855
(906) 227-2650
Website
Muskegon Community College
Students can earn an automotive technology certificate or associate degrees in automotive technology and automotive repair entrepreneur at this school. Courses are intended to prepare students for mechanical, technical, and supervisory roles upon graduation.
221 S Quarterline Rd
Muskegon, MI 49442-1432
(231) 773-9131
Website
Auto Mechanic Work Experience in Michigan
You must be a state certified mechanic to legally work in Michigan. To become state certified, auto mechanics undergo examinations that correlate to repair categories that intend to perform. In preparation for these tests, mechanics typically complete formal education programs that include practical training, get trainee permits and learn on-the-job or participate in apprenticeships. Aside from preparing for state examinations, these work experience options help mechanics pass ASE certification as well.
Right now, there are 22 employers throughout Michigan that are registered as apprenticeship sponsors for auto mechanics. Here are a few examples:
GM Hamatramck Assembly
2500 E. General Motors Blvd
Detroit, MI 48211
(313) 972-6000
Ford Motor Co. Rouge Steel
3001 Miller Rd
Dearborn, MI 48121
(800) 392-3673
Nexteer Automotive
3900 E. Holland Avenue
Saginaw, MI 48601
(989) 757-5000
GM Pontiac Manufacturing
670 East Walton Blvd
Pontiac, MI 48340
(248) 857-5300
FEV North America, Inc.
4554 Glenmeade Land
Auburn Hills, MI 48326
(248) 373-6000
Michigan ASE Certifications
Many auto mechanics in Michigan become ASE certified because employers prefer to hire them as a safeguard against incompetence and low-level craftsmanship in the workplace. ASE certification is also a means of qualifying for state licensure. Although ASE certification is NOT the same as being a state certified mechanic, certain ASE certifications can be substituted for certain state examinations. To clarify this substitutions, check out this ASE to State of Michigan Conversion Table.
The ASE currently offers more than 40 certifications for auto mechanics in Michigan. To qualify for certification examinations, auto mechanics must typically accrue between one and three years of combined work experience and formal education. The ASE test series includes:
Automobile & Light Truck Certification Tests (A Series)
Collision Repair & Refinish Certification Tests (B Series)
Damage Analysis & Estimating Certification Test (B6)
Automobile Service Consultation Certification Test (C1)
Truck Equipment Certification Tests (E Series)
Alternate Fuels Certification Test (F1)
Auto Maintenance & Light Repair Certification Test (G1)
Transit Bus Certification Tests (H Series)
Advanced Engine Performance Specialist Certification Test (L1)
Electronic Diesel Engine Diagnosis Specialist Certification Test (L2)
Light Duty Hybrid/Electric Vehicle Specialist Test (L3)
Engine Machinist Certification Tests (M Series)
Parts Specialist Certification Tests (P Series)
School Bus Certification Tests (S Series)
Medium-Heavy Truck Certification Tests (T Series)
Undercar Specialist Exhaust Systems Test (X1)
There are numerous ASE test sites scattered throughout Michigan, including:
Test Center #2325
719 Griswold St
Suite 640
Detroit, MI 48226
(313) 965-4880
Test Center #2331
5480 Corporate Drive
Suite 120
Troy, MI 48098
(248) 312-0258
Test Center #2312
37727 Professional Center Drive
Livonia, MI 48154
(734) 462-2282
Test Center #0057
555 Briarwood Circle
Suite 110
Ann Arbor, MI 48108
(734) 213-6875
Manufacturer Certification Training in Michigan
After earning a postsecondary certificate in automotive technology, some mechanics pursue interest in advanced education that is manufacturer-specific. This helps them to become experts in how certain brands of cars like BMWs or Volkswagens are manufactured, operated, diagnosed, and repaired. Mechanics that get manufacturer-specific training are highly valued by brand name dealerships, luxury car owners, and specialized repair shops. These schools offer manufacturer-specific training in Michigan:
Jackson College
Associate of Applied Science in Automotive Service Technology
Manufacturer-Specific Option: Ford/Lincoln/Mercury
Website
Macomb Community College
Associate of Applied Science in Automotive Technology
Manufacturer-Specific Option: General Motors ASEP
Website
Michigan Auto Mechanic Salary
According to the United States Bureau of Labor Statistics, auto mechanics in Michigan earn a median salary of $38,600 annually. However, the most successful and admired mechanics receive almost twice this amount at $64,640. Since salary averages tend to shift between local communities, auto mechanics with the freedom to relocate or commute may have better luck finding higher paying jobs. Here are the latest salary statistics for auto mechanics employed in major areas of Michigan:
Ann Arbor
Top 10% Salary: $78,130/yr. or $37.56/hr.
Median Salary: $56,470 or $27.15/hr.
Battle Creek
Top 10% Salary: $50,920/yr. or $24.48/hr.
Median Salary: $35,320/yr. or $16.98/hr.
Bay City
Top 10% Salary: $55,730/yr. or $26.79/hr.
Median Salary: $35,170/yr. or $16.91/hr.
Detroit-Dearborn-Livonia Metro
Top 10% Salary: $63,060/yr. or $30.32/hr.
Median Salary: $39,810/yr. or $19.14/hr.
Detroit-Warren-Dearborn
Top 10% Salary: $68,820/yr. or $33.09/hr.
Median Salary: $44,660/yr. or $21.47/hr.
Flint
Top 10% Salary: $58,840/yr. or $28.20/hr.
Median Salary: $29,980/yr. or $14.41/hr.
Grand Rapids-Wyoming
Top 10% Salary: $61,890/yr. or $29.75/hr.
Median Salary: $39,030/yr. or $18.77/hr.
Jackson
Top 10% Salary: $49,760/yr. or $23.92/hr.
Median Salary: $29,010/yr. or $13.95/hr.
Kalamazoo-Portage
Top 10% Salary: $63,730/yr. or $30.64/hr.
Median Salary: $37,480/yr. or $18.02/hr.
Lansing-East Lansing
Top 10% Salary: $65,790/yr. or $31.63/hr.
Median Salary: $40,380/yr. or $19.41/hr.
Midland
Top 10% Salary: $57,650/yr. or $27.72/hr.
Median Salary: $35,200/yr. or $16.93/hr.
Monroe
Top 10% Salary: $57,930/yr. or $27.85/hr.
Median Salary: $32,440/yr. or $15.60/hr.
Muskegon
Top 10% Salary: $49,870/yr. or $23.98/hr.
Median Salary: $28,730/yr. or $13.81/hr.
Niles-Benton Harbor
Top 10% Salary: $56,510/yr. or $27.17/hr.
Median Salary: $35,790/yr. or $17.20/hr.
Saginaw
Top 10% Salary: $59,860/yr. or $28.78/hr.
Median Salary: $32,410/yr. or $15.58/hr.
Warren-Troy Farmington Hills Metro
Top 10% Salary: $72,800/yr. or $35.00/hr.
Median Salary: $46,920/yr. or $22.56/hr.