The state of Michigan has become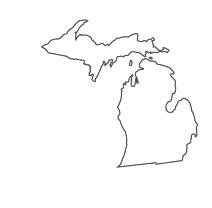 involved in the world of motorcycles. It has instituted a statewide safety program and a rider education program. There is also a CY endorsement on a motor vehicle license, which signifies the complete endorsement of a motorcycle operator who has completed safety and rider training programs. Michigan's motorcycle helmet law covers riders 20 years of age and under, although those 21 years of age and older need at least $20,000 of coverage in first-party insurance in order to decide whether or not to wear a helmet. This law went into effect in 2012 based on the riders' rallying cry for the freedom of choice. Michigan encompasses a large area for riding as the state with a square mileage that exceeds 58,000 and that does not include the Great Lakes. Motorcycle popularity remains high as there are only eight states with more motorcycle operators than Michigan.
Steps to Becoming a Michigan Motorcycle Mechanic
A Michigan motorcycle mechanic does not need to spend years in school or fork over large sums of tuition costs. The process can be expedited through an easy-to-follow, step-by-step process. Adhering to the specifics of each of the following steps can lead to a long and prosperous career as a Michigan motorcycle mechanic.
Choose Motorcycle Mechanic Education Program
Complete Admissions Process to Motorcycle Mechanic School
Complete Requirements in Motorcycle Mechanic Training
Secure Work Experience
Fulfill Industry Certification Requirements
Daily repair and service responsibilities in a motorcycle repair shop require technical skills and knowledge. When this combination is acquired, job satisfaction becomes another benefit enjoyed by Michigan motorcycle mechanics.
Michigan Motorcycle Mechanic Education
A Michigan motorcycle mechanic education involves part classroom learning and part practical instruction in a work bay, which typically resembles a repair shop. Students must pass each portion of this educational program in order to be fully qualified to enter the motorcycle repair industry. Each post-secondary school that offers motorcycle mechanic education sets its own curriculum and requirements for graduation.
Technical certificates are commonly awarded to graduates. Some programs offer diplomas, others offer certificates of completion and there are a select number of post-secondary schools that provide Associate Degrees for motorcycle mechanics. Educational programs are sometimes classified as small engine repair or Powersports technology. The same concepts are taught and each of those educational experiences can be used to obtain employment. Here is a glimpse at some of the educational offerings for motorcycle mechanics in the state of Michigan:
Washtenaw Community College
The Motorcycle Technician Certificate offered at Washtenaw Community College requires the completion of 20 credits through six courses that will prepare students for four different levels of Motorcycle Technology.
4800 E. Huron River Drive
Ann Arbor, MI 48105
Phone: 734-973-3300
Bay-Arenac ISD Career Center
The small engine repair program at Bay Arenac offers students the opportunity to earn a Certification in Motorcycle Repair. There are internships and work experience available as part of the curriculum.
4155 Monitor Road
Bay City, MI 48706
Phone: (989) 686-4770
Macomb Community College
MCC offers a small engine repair course that will introduce students the beginning stages of small engine repair which applies to motorcycles.
14500 E. 12 Mile Road
Warren, MI 48088
Phone: 586-445-7999
Michigan Motorcycle Mechanic Education Admissions
The admissions process in a motorcycle mechanic education program is specified by each individual school. One of the most common forms of criteria is that applicants be at least 18 years of age. Another common requirement is a high school diploma or GED equivalency. There are individual requirements made by some institutions, while others are a bit more lenient in the admissions process. Contacting each school and inquiring about the details of their admissions process is recommended.
Motorcycle Mechanic Work Experience in Michigan
Work experience in the state of Michigan is used to enhance a motorcycle mechanic's educational training. This does not mean that it applies only to new motorcycle mechanics. Experienced motorcycle mechanics can also learn from daily job duties. There is a lot of new technology being implemented into motorcycles. That requires continual learning on how to repair certain issues in the event that a motorcycle engine falters. While the principles of small engine repair remain the same, there are differences in the motorcycles being produced today and the ones that were produced ten and even five years ago. Work experience also prepares motorcycle mechanics to take on more responsibility. That could even land them a higher-paying position in a more esteemed motorcycle repair setting. Work experience also helps in the hiring process as employers are always on the lookout for motorcycle mechanics who can adequately perform their roles. Here is a look at some potential places of employment for Michigan motorcycle mechanics:
Area Cycle, Inc.
7482 Dixie Hwy
Bridgeport Charter Township, MI 48722
Phone: (989) 777-0850
Gearheads
8485 US-20
Michigan City, IN 46360
Phone: (219) 210-3085
Motorcycle Manufacturer Specific Training
Manufacturer specific training for motorcycle mechanics incorporates all the intricate details that come with repairing one brand of motorcycle. Various manufacturers have created their own training programs, which teach the specifics of repair on their own line of motorcycles. Getting this type of training is a way for motorcycle mechanics to broaden their capabilities and increase their overall value. Higher pay rates are earned when a motorcycle mechanic can show proof of this type of training. It can also lead to a job working for an individual motorcycle company. Here is a look at the manufacturers that provide motorcycle mechanic specific training:
Harley Davidson
Kawasaki
Yamaha
BMW
Suzuki
Honda
Michigan Motorcycle Mechanic Salary
The US Bureau of Labor Statistics estimates salaries in most professions throughout the country. Those estimates include salary amounts for motorcycle mechanics. However, there is a broad scale which shows the median average as well as the top 10% of what mechanics earn in a particular state. There is also data available for salary amounts in certain cities. Here is a look at what those reports indicate for the state of Michigan.
State of Michigan
Top 10% Salary: $66,330 ($31.89 per hr)
Median Salary: $30,690 ($14.75 per hr)
Detroit
Top 10% Salary: $47,050 ($22.62 per hr)
Median Salary: $33,560 ($16.13 per hr)
Bay City
Top 10% Salary: $43,250 ($20.79 per hr)
Median Salary: $26,430 ($12.71 per hr)
Michigan Motorcycle Mechanic Employment Trends
Employment trends for the state of Michigan are slightly above-average for motorcycle mechanics. There is expected to be a 7% increase in jobs over a 10-year span which ends in 2024. That is 1% higher than the national average, indicating that a career as a motorcycle mechanic is expected to be one that includes longevity in the state of Michigan. There are a high number of motorcycle owners in Michigan, which creates an ongoing demand for motorcycle mechanics.
Motorcycle Mechanic Certification
The motorcycle repair industry features certifications issued by the Equipment & Engine Training Council (EETC). This organization is responsible for certifying small engine mechanics. There are various stroke certifications, according to the size of each engine designation. Motorcycle mechanics fall into the small engine mechanic category as they are a bit different from auto mechanics, who can apply for a number of certifications from the National Institute for Automotive Service Excellence.
The EETC certification indicates that a motorcycle mechanic a more than acceptable amount of technical knowledge. It can also lead to better job opportunities as it is a way of proving one's value in the industry. EETC certifications serve as the next logical step once an education has been completed and work experience has been gained.
Throughout the country, there is no universal requirement for motor motorcycle mechanic certifications. In a similar manner, no state has instituted a certification requirement for motorcycle mechanics. It is up to the discretion of each motorcycle repair shop or dealership to decide who is an acceptable candidate for employment. Some repair shops prefer motorcycle mechanics with a certification while others may not be as demanding. It varies on a case-to-case basis, although and EETC certification cannot hurt the standing of a motorcycle mechanic. It is also held in high regard throughout many circles in the motorcycle repair industry.