The state of Maine features a lot of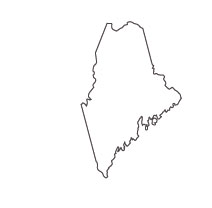 open road and picturesque scenery for drivers. It has become a popular travel destination and that means more cars on the road. There are already 1.5 million registered vehicles belonging to Maine residents and that amounts to a high number of cars and trucks on the road. That also means that there is an ongoing need for auto repair as all those vehicles are bound to need repair sooner or later. Joining the auto mechanic profession in Maine is a career choice that makes sense because of the constant need. Auto mechanics in Maine have also seen a spike in pay rates over the past few years, making this an opportunistic time to join in that profession.
Maine Auto Mechanic Education
An auto mechanic education in the state of Maine is available through a number of post-secondary institutions. Auto mechanic education programs follow their own set curriculums, although most adhere to the same principles and concepts. Auto mechanic programs are also similar in design. They are part classroom and part hands-on instruction.
Some auto mechanic programs award Certificates of Completion while others distribute an Associate Degree of Applied Science to graduates. The class requirements me be slightly different in auto mechanic education programs and the overall time frame is also individualized. Here is a closer look at some of the auto mechanic education programs that are open for enrollment within the state of Maine.
Southern Maine Community College
 The South Portland campus is home to an automotive program in which students can earn an Associate Degree of Applied Science by completing 70 credits.
2 Fort Road
South Portland, Maine 04106
Phone: 207-741-5500                                                  
Eastern Maine Community College
A certificate program is available and requires the completion of 33 credits while an Associate Degree requires the completion of 65 credits.
354 Hogan Road
Bangor, Maine 04401
(207) 974-4600
Central Maine Community College
The program at CMCC has a variety of options and it has also received accreditation from the NATEF.
1250 Turner Street
Auburn, ME 04210
Phone: 207-755-5100
Northern Maine Community College
The two-year Associate Degree program at Northern Maine has been approved by the NATEF and there is also a Certificate program that can be completed in one year.
33 Edgemont Drive
Presque Isle, Maine 04769
207-768-2700
Washington County Community College
The certificate program at WCCC features 37 credits and prepares students to enter into the profession as full-time auto mechanics.
One College Drive
Calais, ME 04619
207 454 1000
Auto Mechanic Work Experience
Work experience as a Maine auto mechanic is the first step to follow the pathway towards earning an ASE certification. It is also through experience that auto mechanics are able to hone their skills and knowledge in auto repair. Work experience can be used as a continual teacher as new issues are always going to arise, particularly with the advent of so much new technology. Auto mechanics must work in the industry as a professional for a distinct amount of time before they can apply to take an ASE certification. Experience as an auto mechanic is available in many different settings and here is a look at some potential places of employment for auto mechanics in Maine.
Maine EPA 609-Refrigerant Certification
The EPA is entrusted with certifying auto mechanics who are looking to provide service and repair on a vehicle's air conditioning unit. The 609-refrigerant certification exam must be passed in order to conduct any type of MVAC repair. A certification exam must have a passing score of 84% or higher in order to award a 609-refrigerant certification. Auto mechanics can also purchase regulated refrigerants when presenting this certification. Preparations for this exam can be done by joining a 609-refrigerant certification training program. This does not mean auto mechanics have to enroll in a program that requires them to attend classes, as many are available through distance learning. Here are some of the 609-refrigerant certification training programs available to auto mechanics.
ESCO Institute
P.O. Box 521
Mount Prospect, IL 60056
Phone: (847) 253-2220
ASE Certifications in Maine
The National Institute for Automotive Service Excellence (ASE) provides auto mechanics with the option of earning more than 40 different certifications. Certifications are used by auto mechanics to enhance their overall careers. Auto mechanics can even work towards obtaining every certification in a test series on the road to achieving the distinction of Master Mechanic. Certifications last for five years and must be renewed through the process of taking another exam, which is classified as a recertification test. Auto mechanics who hold multiple certifications are usually the first ones to obtain employment. Auto mechanic certifications are also a way for auto repair shops to promise customers quality workmanship. For this reason, many auto mechanics strive to obtain as many certifications as possible. Those who are looking to obtain ASE certifications in the state of Maine can choose from any of the following test series:
Auto Maintenance and Light Repair Certification Test (G1)
Automobile & Light Truck Certification Tests (A Series)
Collision Repair & Refinish Certification Tests (B Series)
Damage Analysis & Estimating Certification Test (B6)
Automobile Service Consultant Certification Test (C1)
Truck Equipment Certification Tests (E Series)
Alternate Fuels Certification Test (F1)
Transit Bus Certification Tests (H Series)
Advanced Engine Performance Specialist Certification Test (L1)
Electronic Diesel Engine Diagnosis Specialist Certification Test (L2)
Light Duty Hybrid/Electric Vehicle Specialist Test (L3)
Engine Machinist Certification Tests (M Series)
Parts Specialist Certification Tests (P Series)
School Bus Certification Tests (S Series)
Medium-Heavy Truck Certification Tests (T Series)
Undercar Specialist Exhaust Systems Test (X1)
Visiting an official ASE test center in Maine is a required part of earning in ASE certification. A certification exam cannot be administered at a location that is not designated as an official test center. No online options exist as auto mechanics need to schedule a test date in advance and then bring with them the necessary documentation before they are allowed to take a certification exam. Maine is home to a number of official ASE test centers and here is a look at some of those locations throughout the state.
Test Center #7499
Prometric Satellite Center
One College Drive
Washington County Community College
Calais, Maine 04619
(207) 454-1000
Test Center #3403
Portland ME - South Portland
189 Darling Avenue
Unit B44
South Portland, Maine 04106
(207) 761-0328
Test Center #7359
Prometric Satellite Center
University of Maine at Farmington
252 Main Street Franklin Hall 3rd Flr
Farmington, Maine 04938
(207) 778-7666
Test Center #5119
Bangor - Bangor Mall Blvd
11 Bangor Mall Blvd
Unit D
Bangor, Maine 04401
(207) 404-2001
Test Center #7477
Prometric Satellite Center
1250 Turner St., Jambert Hall
Central Maine Community College
Auburn, Maine 04210
(207) 755-5450
Manufacturer Certification Training in Maine
Manufacturer certification training in Maine is available through a number of auto mechanic education programs. It is in these programs that students are taught the essentials of auto repair on one particular brand of vehicles. Each car manufacturer designs its own training program and then offers it through select auto mechanic schools. Auto mechanics who are looking to undergo this type of training can look forward to developing a skillset that is specific to one brand of vehicles. This allows auto mechanics to specialize in the service and repair of makes and models produced by a specific manufacturer. A skill of this kind can be used to obtain employment at a specific dealership or service center that caters to vehicles made by one manufacturer. Some states feature more of these programs than others. Maine features only one manufacturing certification training program and here is a look at that program.
Ford Asset Program
Central Maine Community College
1250 Turner Street
Auburn, ME 04210
Contact: Matt Walsh
Phone: 207-755-5374
Email: mwalsh@cmcc.edu
Maine Auto Mechanic Salary
The U.S. Bureau of Labor Statistics reported that the median salary of a Maine auto mechanic is $35,510 per year. Those same statistics indicate that the top 10% of Maine auto mechanics earn an average salary of $56,020 per year. There is no entry level salary that is universal throughout the state of Maine. Salaries are determined by a number of factors and are ultimately decided upon by individual auto repair shop owners. One way to enhance an auto mechanic's ability to earn higher pay rates is to accumulate certifications and work experience. There is also the location factor to consider and here is a look at the auto mechanic salaries throughout the state of Maine.
Portland
Top 10% Salary: $61,770 ($29.70 per hr)
Median Salary: $44,750 ($21.51 per hr)
Bangor
Top 10% Salary: $49,190 ($23.65 per hr)
Median Salary: $33,910 ($16.30 per hr)
Auburn
Top 10% Salary: $51,550 ($24.78 per hr)
Median Salary: $30,590 ($14.71 per hr)