In Maine, the motorcycle season begins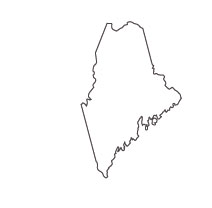 around the time the snow starts melting. As of late, that has been resulting in an earlier season because of the limited snowfall. That means motorcycle enthusiasts are getting out earlier and more often in the state of Maine. There is also no shortage of enjoyable rides in Maine. Motorcyclists can enjoy a ride along the Bar Harbor Loop in Arcadia National Park, Northern Route 201 on the Kenebec River, or the Route 113 Border Cruise, which totes the Maine-New Hampshire border. There are currently more than 52,000 registered motorcycles in Maine as the cold winters have not deterred bike owners from continuing to make this lifestyle a year-round pastime.
Steps to Becoming a Maine Motorcycle Mechanic
The path to becoming a Maine motorcycle mechanic lies through educational training that serves as preparation for a lasting career in this capacity. Once that education is attained, motorcycle mechanics can begin their foray through this profession. That can result into a long-standing career filled with job security. The following steps can lead to a career as a motorcycle mechanic in Maine.
Select Motorcycle Mechanic Education Program
Complete Admissions Process
Finish course work in Motorcycle Mechanic Training
Obtain Work Experience
Gather Industry Certifications
The job title of motorcycle mechanic is needed in a variety of work settings. That could include repair shops, dealerships and shops specializing in customizations. Motorcycle mechanics perform an array of service duties that range from simple to complex.
Maine Motorcycle Mechanic Education
Becoming a motorcycle mechanic in Maine requires detailed training, which can be acquired at a post-secondary school that features an education program in motorcycle repair. Some of these programs are designated as small engine repair or Powersports technology. Those programs all teach the same concepts used by motorcycle mechanics on a daily basis. Repairing motorcycles is quite different from the repair of automobiles, due to the type of engines involved.
The curriculum combines both hands-on learning and lessons taught in a classroom setting. This allows students to acquire both knowledge and skills, which will be used the moment they begin working as a motorcycle mechanic. Each individual curriculum differs and the requirements for graduation are specified by each school. Here is a look at some of the motorcycle mechanic education options in Maine.
Washington County Community College
A Certificate Program is available with the distinction of Powersports Technology/Small Engine Mechanic. This requires the completion of 35 credits.
Lamar Salter Campus
15014 Lake Charles Highway
Contact: Greg Johnson
Phone: 207-454-1007
Email: gjohnson@wccc.me.edu
Maine Adult Education
There are small engine repair courses offered on the campus, which is located in the town of Dover Foxcroft.
841 North Road
Dover Foxcroft, ME 04426
Email: info@maineadulted.org
Maine Motorcycle Mechanic Education Admissions
Maine Cycle
570 Washington St N
Auburn, ME 04210
Phone: (207) 783-7349
Moto Milano
656 Roosevelt Trail
Windham, ME 04062
Phone: (207) 892-5420
Motorcycle Manufacturer Specific Training
Becoming certified as a motorcycle mechanic who is trained to work on one specific brand of motorcycle can be done through individualized training. There are programs set up in various parts of the country that teach this skillset. These training programs are rather limited, although they are very good to have in a mechanic's repertoire. The ability to diagnose intricate issues on specific brands of motorcycles provides motorcycle mechanics with a value that is above average. This skill can lead to a position working for a service center or dealership that specializes in repairing motorcycles made by one specific manufacturer. This skill can also help motorcycle mechanics demand higher salaries. If the opportunity arises to complete a manufacturer certification training course, then it would be extremely advantageous for a motorcycle mechanic to do so. These programs typically take 12 weeks to complete while some may extend to 24 weeks. Here is a look at some of the manufacturers that provide this type of specific training.
Harley Davidson
Kawasaki
Yamaha
BMW
Suzuki
Honda
Maine Motorcycle Mechanic Salary
Motorcycle mechanic salaries in Maine are differentiated by location. Some areas feature higher pay rates than others. Much of that has to do with the type of repair shop and what kind of work is conducted on a regular basis. The salary of a Maine motorcycle mechanic is comparable to the salaries offered in other states with a similar cost of living. The U.S. Bureau of Labor Statistics estimates that the median salary of a motorcycle mechanic in Maine is $30,290 per year. Those numbers also show that the top 10% of Maine motorcycle mechanics earn a salary of $49,970 per year. Here is a look at some of the different pay rates from around the state of Maine.
Bangor
Top 10% Salary: $50,100 ($24.09 per hr)
Median Salary: $28,900 ($13.89 per hr)
Northeast Maine
Top 10% Salary: $46,950 ($22.57 per hr)
Median Salary: $27,730 ($13.33 per hr)
State of Maine
Top 10% Salary: $49,970 ($24.03 per hr)
Median Salary: $30,290 ($14.56 per hr)
Maine Motorcycle Mechanic Employment Trends
Employment trends for motorcycle mechanics in Maine are slightly above the national average, both of which are on the rise. The number of motorcycle mechanics in Maine continues to grow each year. That is consistent with most states in the country, as the motorcycle mechanic profession is one that is on the rise. By the year 2024, there is expected to be a 7% increase in overall Maine motorcycle mechanics. Those numbers are a strong indicator that this profession will be one that is profitable for years to come.
Motorcycle Mechanic Certification
Becoming certified as a motorcycle mechanic means getting approval from the Equipment & Engine Training Council (EETC). This organization is entrusted with the duty of certifying mechanics in small engine repair. This distinction applies directly to motorcycle mechanics as they are expected to know the specifics of certain types of repair. Some of the certifications offered by the EETC apply two to three and four-stroke engines. Motorcycle mechanics can apply for a certification and when granted, it ups their status in the industry.
The EETC certification should not be confused with any kind of state certification. Some jobs require members of their profession to earn a certification from the state before conducting professional work. That is not the case with motorcycle mechanics as employers are free to hire anyone they deem qualified. Therefore, it is wise to obtain is many industry-related certifications as possible.
Students who complete motorcycle mechanic education programs are typically awarded technical certificates. These are not the same as certification although they do carry weight in the profession. The accumulation of certificates and certifications can really boost a motorcycle mechanic up to another level. That would mean those mechanics have preference when it comes to job openings as they will be more sought-after than motorcycle mechanics who have just entered the field.