Kentucky's scenic landscape can make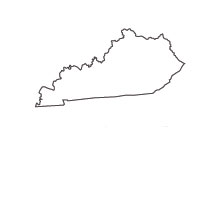 for some enjoyable rides through the bluegrass state.
There are lots of annual bike runs through the state of Kentucky. These rides include yearly events, such as the GMMCC Motorcycle Rally and multiple Poker Runs over the course of the year. There are even motorcycle training centers popping up throughout the state, which teach inexperienced and beginners the proper safety methods and riding details. The increase in these rider courses is another indication of the rising popularity of motorcycles in Kentucky. This state is also a prime work environment for those who are looking to make their living as a motorcycle mechanic.
Steps to Becoming a Kentucky Motorcycle Mechanic
In the state of Kentucky, aspiring motorcycle mechanics can follow a four-step process that will help them enjoy a rewarding and productive career. This pathway can translate into a career as a full-time motorcycle mechanic. The daily job will require such tasks as parts replacement, mounting and balancing bikes, as well as custom installations. Here are some simple steps to follow on the way to becoming a motorcycle mechanic in Kentucky.
Choose a Motorcycle Mechanic Education Program
Gain Admission to a Program
Completion of Motorcycle Mechanic Training
Gain Work Experience
Earn Industry Certifications
One of the best parts about training to be a motorcycle mechanic is that it does not take four years of schooling or high tuition fees. You could be fast on your way to making a living as a motorcycle mechanic in Kentucky without putting yourself in debt.
Kentucky Motorcycle Mechanic Education
Motorcycle mechanic education is a viable option for Kentucky residents who are looking to carve out a career in this industry. A motorcycle mechanic education is not required by the state, although it is uncommon for mechanics to succeed without this kind of formal training. A motorcycle mechanic education program in Kentucky will show students how to repair motorcycles in a work-based setting.
This involves hands-on instruction from experienced motorcycle mechanics. There are additional classroom portions in which students learn all about motorcycle repair in a more traditional learning environment. Taking both of these learning methods and combining them into one program is the basis of motorcycle mechanic education in Kentucky. Here is a look at some options for those interested in pursuing a motorcycle mechanic education in the state of Kentucky.
Jefferson Community and Technical College
The small engine mechanic option is available at the Louisville campus for students who wish to pursue certificate options. The curriculum also applies to students interested in learning the intricacies of motorcycle repair.
109 E Broadway
Louisville, KY 40202-2005
Phone: (502) 213-4000
Kentucky Motorcycle Mechanic Education Admissions
Gaining admission to a motorcycle mechanic education program in Kentucky follows individualized protocol. That means students applying must adhere to the admissions process set forth by each institution. However, one commonality among the admissions process is that applicants should have a high school diploma or GED equivalency. In some instances, there is an age requirement of 18 years. The best way of finding out the exact specifications is to visit the website or make a phone call to a particular post-secondary school that offers motorcycle mechanic educational training.
Motorcycle Mechanic Work Experience in Kentucky
Kentucky motorcycle mechanics are often evaluated by the amount of work experience they have acquired. That is why it is extremely important for new motorcycle mechanics to obtain employment. This could be done on a part-time basis or under an apprenticeship. Work experience can also come with a full-time position as a motorcycle mechanic in Kentucky. Work experience exposes motorcycle mechanics to much of what they will face throughout their careers. This is an excellent way for new mechanics to learn the ins and outs of the industry. Work experience will also serve the purpose of sharpening the mechanical and technical skills of a motorcycle mechanic. This can be a valuable experience and here is a look at some potential work settings for motorcycle mechanics in Kentucky:
Motorcycle Manufacturer Specific Training
Manufacturer specific training for motorcycle mechanics who wish to specialize in the service and repair of one brand of motorcycles is available on a limited basis. This skill can be highly valued and increase the appeal of a motorcycle mechanic when it comes to the job market. It can also lead to employment in a specialized role of fixing motorcycles made by one manufacturer. The accumulation of multiple certifications can help motorcycle mechanics negotiate higher pay rates and extend to them a number of additional qualifications. Training of this nature is available in select locations here is a look at some of the motorcycle companies that feature manufacturer specific distinctions.
Harley Davidson
Kawasaki
Yamaha
BMW
Suzuki
Honda
Kentucky Motorcycle Mechanic Salary
The pay scale for a motorcycle mechanic in Kentucky has a tendency to fluctuate. This is due to the different experience levels of motorcycle mechanics in Kentucky. That experience plays a significant role in how much a motorcycle mechanic can demand when it comes to settling on an annual salary. Location is also something to consider when evaluating the salary of a motorcycle mechanic in Kentucky. The U.S. Bureau of Labor Statistics revealed that the median Kentucky motorcycle mechanic salary is $33,100 per year. These statistics also show that the top 10% of Kentucky motorcycle mechanics earn $47,560 per year. Here is a breakdown of the salary amounts earned on an annual basis by Kentucky motorcycle mechanics.
West Central Kentucky
Top 10% Salary: $38,210 ($18.37 per hr)
Median Salary: $27,780 ($13.35 per hr)
East Kentucky
Top 10% Salary: $38,500 ($18.51 per hr)
Median Salary: $23,880 ($11.48 per hr)
Kentucky Motorcycle Mechanic Employment Trends
Employment for motorcycle mechanics in Kentucky is steadily growing. There is expected to be an 8% increase in the number of total motorcycle mechanic jobs in Kentucky for the 10-year period that concludes in 2024. Motorcycle repair shops continue to remain busy throughout the state, which is a promising sign for those entering into the field of motorcycle repair. Kentucky's growth rate for motorcycle mechanic jobs is also a bit higher than the national average. Overall, motorcycle mechanics are seeing an increase in number throughout the country.
Motorcycle Mechanic Certification
To become certified as a motorcycle mechanic, an EETC (Equipment & Engine Training Council) exam must be passed. This certification is given to small engine repair mechanics. Motorcycle mechanics fall under that distinction and can seek out various certifications offered by this organization. Four-stroke certifications are common and there are a host of others that can be earned as well. Certifications of this kind are used to strengthen the resume of a motorcycle mechanic in Kentucky and can help in the process of acquiring a full-time position.
The state of Kentucky has not instituted any kind of certification for motorcycle mechanics. There is no statewide board or committee entrusted with overseeing the motorcycle mechanic profession. Therefore, certifications can be considered a bit subjective when being evaluated by potential employers. For this reason, acquiring a certificate of completion or technical certificate from an institution that offers motorcycle mechanic education can be just as useful in enhancing one's credentials.
A certification in the auto repair industry is quite different as there are many distinctions available through the National Institute for Automotive Service Excellence. However, that institute has not established any type of certification for motorcycle mechanics. It is up to mechanics to find ways to improve their technical knowledge and that can be done by working to achieve an EETC certification or by completing a motorcycle mechanic education program and earning a certificate of completion.