Indiana has quickly become a bustling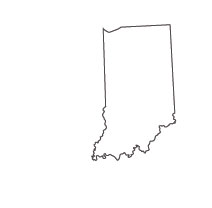 epicenter in the automotive industry. The automotive companies located in Indiana contribute $15 billion per year to the state's gross domestic product. That amount ranks second out of all 50 states. There has been a trickle-down effect which impacts auto mechanics. There has been a steady growth in auto mechanic jobs with more than a 1% increase each year. Auto mechanic pay rates are also above the national average throughout the state of Indiana while earning potential is very high in some cities.
Indiana Auto Mechanic Education
Auto mechanic education in Indiana begins the process of becoming skilled enough to work as a full-time professional in the auto repair industry. The auto mechanic education options extend to 1-year and 2-year trajectories. Aspiring auto mechanics can choose from programs that will earn them a technical certificate, an associate degree, a non-degree diploma, or a certificate of completion. Different schools have different designations for what they will award to graduates of their automotive technology programs.
Each individual training program combines both hands-on learning with instruction in a classroom format. The object is to combine actual repair skills with a vast amount of technical knowledge. Once students complete these auto mechanic education programs, they will be prepared to handle an entry level position. Some programs are more expansive than others, but all typically focus on the same principles. Here is a look at some of the auto mechanic education options in Indiana.
Ivy Tech Community College
The Automotive Technology programs at Ivy Tech extends to 12 different campus locations throughout the state of Indiana, with the main campus located in Indianapolis. There are a variety of programs to choose from as Ivy Tech has a monopoly on auto mechanic education in Indiana.

Indianapolis Campus
1331 East Washington Street
Indianapolis, IN, 46202
Phone: (888) 489-5463

Kokomo Campus
1815 E. Morgan St.
Kokomo, IN 46903   
Phone: (800) 459-0561         

Lafayette Campus
3101 S. Creasy Ln.
Lafayette, IN 47905 
Phone: (765) 269-5155

Richmond Campus
2325 Chester Blvd.
Richmond, IN 47374
Phone: (765) 966-2656         

Northeast Campus
3701 Dean Drive
Fort Wayne, IN 46835
Phone: (260) 480-4293
Lincoln Technical Institute
The Indianapolis-based Lincoln Tech program offers three separate programs to choose from, with concentrations on automotive mechanics, technology and service management.
7225 Winton Drive
Building 128
Indianapolis, IN 46268
Phone: (317) 632-5553
Vincennes University
Students can earn and Associate Degree of Applied Science in Automotive Technology as part of Vincennes' two-year program.
1002 North First Street,
Vincennes, Indiana 47591
812-888-VUVU
Auto Mechanic Work Experience
Work experience in Indiana as an auto mechanic has a tremendous amount of value. Experience in the auto repair field teaches auto mechanics to enhance their skills, in addition to improving their diagnostic abilities. Work experience also helps to accumulate the necessary work requirements, which will allow auto mechanics to take an ASE certification. So much of an auto mechanic's credibility is contingent upon how much time they have logged in the industry. Work experience may also factor in to pay rates. Indiana is home to an array of auto repair shops that can help auto mechanics game valuable work experience. Here is a look at some of those places which could be a future home to Indiana auto mechanics.
Indiana EPA 609-Refrigerant Certification
The repair and service of Motor Vehicle Air Conditioning units is a detailed process that needs to be handled with care because of the refrigerants involved. Because of the nature of this type of repair, the EPA has established a certification that is required of all auto mechanics. Without this certification, mechanics are not permitted to conduct MVAC repair. This has become known as a 609-refrigerant certification. Obtaining a certification can be done by passing an online examination that has been created by the EPA. There are a host of training programs available to help auto mechanics prepped for the material they will see on the 609-refrigerant certification exam. These programs are typically offered in a distance learning format in which auto mechanics do not have to attend any physical classes. Here is a look at some of the 609-refrigerant certification training programs throughout the country.
ESCO Institute
P.O. Box 521
Mount Prospect, IL 60056
Phone: (847) 253-2220
ASE Certifications in Indiana
The National Institute for Automotive Service Excellence (ASE) certifies auto mechanics who have demonstrated a knowledge level that exceeds the industry norm. Certifications are only given to auto mechanics who have accumulated ample time on the job. That form of criteria is combined with a passing score on a certification exam. There is a detailed process involved with becoming ASE certified. Certifications are a way for mechanics to establish a higher level of credibility. This shows that they have taken the time and energy to improve their skill and knowledge level in auto repair. Auto repair shops typically look to hire auto mechanics who hold certifications. This also helps to improve the standing of an auto repair shop. It is another way for auto shop owners to appeal to current and potential customers. Auto mechanics in Indiana can look into the following areas when seeking out a certification from the ASE.
Auto Maintenance and Light Repair Certification Test (G1)
Automobile & Light Truck Certification Tests (A Series)
Collision Repair & Refinish Certification Tests (B Series)
Damage Analysis & Estimating Certification Test (B6)
Automobile Service Consultant Certification Test (C1)
Truck Equipment Certification Tests (E Series)
Alternate Fuels Certification Test (F1)
Transit Bus Certification Tests (H Series)
Advanced Engine Performance Specialist Certification Test (L1)
Electronic Diesel Engine Diagnosis Specialist Certification Test (L2)
Light Duty Hybrid/Electric Vehicle Specialist Test (L3)
Engine Machinist Certification Tests (M Series)
Parts Specialist Certification Tests (P Series)
School Bus Certification Tests (S Series)
Medium-Heavy Truck Certification Tests (T Series)
Undercar Specialist Exhaust Systems Test (X1)
Taking an ASE certification examination can only be done at an official test center. It is here that auto mechanics take official certification exam, but not before providing proper documentation and identification upon arrival. Exam dates also need to be scheduled in advance. There are numerous test centers within the state of Indiana and auto mechanics are free to take exams wherever they choose. Here is more information on the Indiana official ASE test centers.
Test Center #1826
Indianapolis, IN
8606 Allisonville Rd
Suite 375
Indianapolis, Indiana 46250
(317) 913-0748
Test Center #7391
Prometric Satellite Center
Ivy Tech Comm Coll - Bloomington
200 Daniels Way
Bloomington, Indiana 47404
(812) 330-6137
Test Center #1816
Fort Wayne - Dean Drive
Ivy Tech Comm. College - North Campus
3701 Dean Drive (Harshman Hall)
Fort Wayne, Indiana 46835
(260) 480-4112
Test Center #7365
Prometric Satellite Center
Vincennes University
1002 N First Street
Shake Learning Resource Ctr Room 130
Vincennes, Indiana 47591
(812) 888-5404
Test Center #7464
Prometric Satellite Center
2357 Chester Blvd
Ivy Tech - McDaniel Hall - Room 1128
Richmond, Indiana 47374
(765) 966-2656   Ext 4133
Manufacturer Certification Training in Indiana
Earning a manufacturer certification is a way of becoming skilled enough to work for an auto repair business that caters to a specific brand of vehicles. This could occur at a dealership or service center that strictly deals with repair of cars and trucks made by one manufacturer. Companies like Chrysler, Honda, GM and Subaru all have their own individual training programs. These programs are made available to students at post-secondary schools that feature manufacturer certification training as part of their automotive technology curriculum. Not all schools offer this kind of training, although there are a variety of locations to choose from throughout the country. Manufacturer specific training can lead to a long and stable career in the auto repair business. Here is a look at some Indiana schools that feature manufacturer certification training.
Honda PACT Program
Ranken Technical College
4431 Finney Ave
St. Louis, MO 63113
314-286-3335
Contact: Andrew Jesse
Email: aajesse@ranken.edu
Toyota T-Ten Program
Ivy Tech Community College
1331 East Washington Street,
Indianapolis, IN, 46202
Contact: Randy Fox
Phone: (317) 269-9223
Email: rfox2@ivytech.edu
Indiana Auto Mechanic Salary
Indiana auto mechanic salaries amount to different totals throughout the state. An auto mechanic's experience plays a significant role in the amount of pay that is earned on a yearly basis. The U.S. Bureau of Labor Statistics estimates that Indiana auto mechanics earn a median salary of $36,660 per year. The top 10% of auto mechanics in Indiana can expect to make $60,950 per year, according to those same statistics. Work experience helps auto mechanics to obtain better paying positions and earning multiple certifications can also assist in raising one's income. Here is a closer look at Indiana auto mechanic salaries by location.
Indianapolis
Top 10% Salary: $66,080 ($31.77 per hr)
Median Salary: $44,010 ($21.16 per hr)
Gary
Top 10% Salary: $63,200 ($30.38 per hr)
Median Salary: $39,250 ($18.87 per hr)
Evansville
Top 10% Salary: $65,480 ($31.48 per hr)
Median Salary: $39,130 ($18.81 per hr)
Bloomington
Top 10% Salary: $58,590 ($28.17 per hr)
Median Salary: $36,320 ($17.46 per hr)