The state of Indiana has a rather large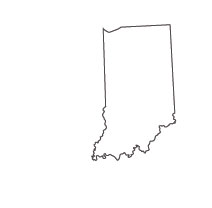 motorcycle following. There are more than 223,000 motorcycles registered in Indiana. That is the thirteenth highest amount of any state in the country. There is only a partial helmet law for motorcyclists in Indiana, as it covers only those 17 years of age and younger. There are efforts to improve safety as the program Ride Safe serves as Indiana's motorcycle safety program affiliated with the Department of Motor Vehicles. There is also an abundance of motorcycle safety courses set up for riders looking to learn the nuances of safe riding. There are even riding schools for certain bikes, such as Harley Davidson. All these resources have been the result of an increase in demand and rise in popularity for motorcycles in Indiana.
Steps to Becoming an Indiana Motorcycle Mechanic
Becoming a motorcycle mechanic in Indiana includes certain steps that are necessary in order to fully grasp all the responsibilities that come with this job. Once these steps are all completed, motorcycle mechanics can expect to enjoy a career that is filled with competitive pay and job stability. Listed below are the steps anyone can take towards a future as a motorcycle mechanic in Indiana.
Select a Motorcycle Mechanic Education Program
Gain Admission and Set Target Date for Graduation
Complete Motorcycle Mechanic Training
Acquire Work Experience
Obtain Industry Certifications
Earning the distinction of motorcycle mechanic will allow individuals to work in a variety of settings. Motorcycle repair shops have similarities and while the core principles of the job are the same, there are differences when it comes to work settings. The following steps will prepare motorcycle mechanics for any of those work environments.
Indiana Motorcycle Mechanic Education
A motorcycle mechanic education in Indiana begins with the selection process. That involves choosing a motorcycle mechanic educational program that will equip students with the repair skills and technical knowledge they will need to enter the profession. Training programs at a motorcycle mechanic education school have their own specific time frames. Some programs take longer than others to complete. That is decided upon by each individual institution.
The combination of acquiring motorcycle mechanic repair skills and classroom knowledge on motorcycle theory is what every beginning motorcycle mechanic should have in order to maintain a full-time position. These programs may also be called small engine repair or Powersports Technology, as each teach the same principles included in a motorcycle mechanic program. Here is a look at some of the motorcycle mechanic education options available in the state of Indiana.
Ivy Tech Community College
The Motorsports Technology Program at Ivy Tech takes 12 months to complete and awards graduates a technical certificate. This program features more than a half-dozen motorcycle repair courses. Ivy Tech also has an abundance of campus locations spread throughout the state and is one of the most prominent technical colleges that has a bit of a monopoly in Indiana.
Main campus
8000 South Education Drive
Terre Haute, IN 47802
Phone: 800-377-4882
Lafayette Campus
3101 S Creasy Ln
Lafayette, IN 47905
Phone: (765) 269-5000
Indianapolis Campus
50 W Fall Creek Pkwy N Dr
Indianapolis, IN 46208
Phone: (888) 489-5463
Indiana Motorcycle Mechanic Education Admissions
The admissions process for students looking to pursue a career in motorcycle repair differs according to each post-secondary school. The general standard for admission to one of these programs is a high school diploma or GED equivalency. Many institutions also have a minimum age of 18 for new enrollees. These are no universal standards as they can be altered as each institution sees fit. It is best to contact each post-secondary school for further clarification on the precise admissions requirements.
Motorcycle Mechanic Work Experience in Indiana
Work experience as an Indiana motorcycle mechanic provides a host of benefits. Work experience introduces mechanics to the world of motorcycle repair. It also builds their technical knowledge level as new issues will be encountered in their everyday work environment. This helps tremendously with the ability to diagnose engine problems. Work experience in Indiana as a motorcycle mechanic can also further one's individual career. Acquiring more experience builds up credibility in the industry. Those who have a significant amount of work experience as a motorcycle mechanic in Indiana tend to receive higher salaries and are often given stronger consideration for job openings. For the chance to gain work experience in Indiana, motorcycle mechanics can look into potential employment opportunities at the following locations:
Gearheads
8485 US-20
Michigan City, IN 46360
Phone: (219) 210-3085
Motorcycle Manufacturer Specific Training
Being trained to work on a specific brand of motorcycles requires individualized training. There are programs that teach all the facets of working on motorcycles made by one manufacturer. These programs are limited in quantity throughout the country, although they do give motorcycle mechanics a distinct advantage in the job market. These certifications can also help motorcycle mechanics gain employment at a repair shop that specializes in the service and repair of motorcycles produced by one manufacturer. Below is a list of the motorcycle manufacturer specific training programs that can be found within the United States.
Harley Davidson
Kawasaki
Yamaha
BMW
Suzuki
Honda
Indiana Motorcycle Mechanic Salary
The salary of a motorcycle mechanic in Indiana is based on a number of factors. Work experience plays a role in the overall salary amount, and the location of a motorcycle repair shop also influences pay rates. Motorcycle popularity in Indiana has provided the motorcycle repair industry with a lot of options. When comparing motorcycle mechanic pay rates to other salary amounts around the country, it is important to consider the cost of living. The state of Indiana features a lower cost-of-living the many other states and, therefore, features very comparable salary amounts. The United States Bureau of Labor Statistics estimates the average salary of an Indiana motorcycle mechanic to be $34,090 per year. However, there is the chance to elevate those earnings as the top 10% of Indiana motorcycle mechanics earn a salary of $46,210 per year. Here is a listing of some of the annual pay rates for different cities in Indiana.
Indianapolis
Top 10% Salary: $40,930 ($19.68 per hr)
Median Salary: $35,400 ($17.02 per hr)
Fort Wayne
Top 10% Salary: $43,150 ($20.75 per hr)
Median Salary: $33,870 ($16.29 per hr)
Evansville
Top 10% Salary: $46,890 ($22.54 per hr)
Median Salary: $32,990 ($15.86 per hr)
Indiana Motorcycle Mechanic Employment Trends
Employment trends for motorcycle mechanics in Indiana are rather favorable. The 10-year average for job growth among motorcycle mechanics is 7%, which is slightly higher than the national average. This puts the motorcycle mechanic profession in Indiana in a category that is above many other occupations whose future is uncertain. The steady influx of business for Indiana motorcycle repair shops is also a promising sign for those looking to become a motorcycle mechanic. The consistency across the state has allowed new motorcycle mechanics to enter into a thriving industry.
Motorcycle Mechanic Certification
In the state of Indiana, there is no requirement for motorcycle mechanics to be certified by any particular organization. There is also no state board that oversees the certification or licensure of motorcycle mechanics. There is a distinct difference between motorcycle mechanics and auto mechanics when it comes to certification. Auto mechanics have the option of becoming certified in almost 50 different classification areas, as introduced by the National Institute for Automotive Service Excellence (ASE). However, the ASE does not certify motorcycle mechanics. None of its certifications delve into the area of motorcycle repair.
There is a national organization that does offer certifications for motorcycle mechanics. The Equipment & Engine Training Council (EETC) provides certifications to motorcycle mechanics who show the ability to conduct small engine repair. There are 2, 3, and 4-stroke certifications available, which are widely recognized throughout the motorcycle repair industry. Certifications prove that a motorcycle mechanic has put the time and effort into enhancing the overall body of knowledge used in this line of work. Certifications are also used to increase the chance of attaining a full-time position as a motorcycle mechanic.
Certifications are sometimes used as a term that describes a motorcycle mechanic's previous training. Motorcycle mechanic education programs issue certificates, and those often are used interchangeably, even though the two are not one in the same. Certifications in the motorcycle repair industry leaves repair shop owners with the right to decide what counts as an adequate type of qualification.