Florida is a highly traveled area with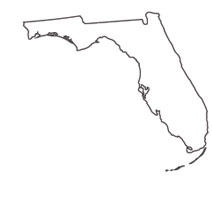 more than 14.2 registered motor vehicles in the state alone. That does not account for the high number of visitors that frequent the state on a daily basis. Florida also employs the third-highest amount of auto mechanics in the country with more than 46,000 total. The highest concentration of mechanics in any U.S. metropolitan area is in Punta Gorda, Florida. There is also an extremely high growth rate for auto mechanic jobs, as there are more than a couple thousand new jobs opening up every year in Florida. Now is one of the most opportune times for auto mechanics to join this profession in the state of Florida.
Florida Auto Mechanic Education
An auto mechanic education in Florida can be obtained by attending one of the many post-secondary schools that offer automotive technology programs. This type of training combines classroom work with instruction in an auto repair setting. Students are introduced to general automotive concepts, technical knowledge and practical applications that they will use as a professional auto mechanic.
The time length of an auto mechanic education program can range from 1 to 2 years. Those who complete the necessary coursework will be awarded either a Certificate of Completion or an Associate Degree of Applied Science in Automotive Technology. There are even some programs that offer non-credit Diplomas. Florida has a wide array of auto mechanic education schools to choose from and here is a look at some of those institutions.
Broward College
Students have the option of earning an Associate Degree of Applied Science in Automotive Technology from Broward.
111 East Las Olas Boulevard
Fort Lauderdale, FL 33301
Phone:954.201.7350                                                   
Florida State College at Jacksonville
There is a technical certificate program offered to students at FSU-Jacksonville in Automotive Technology.
Downtown Campus
101 West State Street
Jacksonville, FL 32202
Phone: (904) 633-8313
Universal Technical Institute
There are a variety of automotive programs available to students attending UTI, as this school features various locations throughout the country.
2202 West Taft Vineland Road
Orlando, FL 32837
Phone: 407-240-2422
South Florida State College
There is a two-year Occupational Certificate program in Automotive Technology offered to students at South Florida State.
600 West College Drive
Avon Park, FL 33825
Phone: 863-453-6661
Hillsborough Community College
HCC features an Automotive Service Technology program that takes 17 months to complete.
1206 N Park Rd
Plant City, FL 33563
Phone: (813) 253-7000
Auto Mechanic Work Experience in Florida
Work experience in the auto repair industry is a part of informal education that is ongoing. Auto mechanics are able to learn all types of new techniques while on the job. This is a tremendous help to new auto mechanics who are looking to expand on their foundation of knowledge. Work experience is also used to suffice the ASE requirements needed to take a certification exam. Auto mechanics seeking out and certification must first provide proof of having worked a set number of years as an auto mechanic. Work experience in Florida is available at many different automotive repair businesses. Auto mechanics in search of gaining work experience can choose from many options including the following:
Florida EPA 609-Refrigerant Certification
Motor vehicle air conditioner (MVAC) service and repair can only be done by auto mechanics who hold the appropriate certification. The EPA oversees this process and issues a 609-refrigerant certification to auto mechanics who score an 84% or above on its refrigerant exam. This exam was developed by the EPA as a way of protecting the environment. MVAC repair involves the handling of refrigerants and that could be problematic if not done correctly. The EPA has placed strict regulations on this type of repair, which means that auto mechanics need to be certified. Training programs are available to help auto mechanics pass the 609-refrigerant certification examination and most do not require physical attendance and can be completed from a mechanic's home. Here is a look at few programs:
ESCO Institute
P.O. Box 521
Mount Prospect, IL 60056
Phone: (847) 253-2220
ASE Certifications in Florida
The National Institute for Automotive Service Excellence (ASE) provides auto mechanics with the opportunity to earn certifications in more than 40 different areas. The ASE certification is a distinction that shows auto mechanics have attained a certain knowledge level, which is considered to be above average. In order to be approved to take an auto mechanic certification exam, experience requirements must be met. Certification exams are then issued and a passing score must be earned. Certifications remain valid for a period of five years. After that time, they must be renewed by taking a recertification exam. A recertification exam is about half as long as the initial exam. Many auto repair businesses place a high level of trust in ASE mechanics. This is a way of advertising credibility to customers and giving them peace of mind. Here is a look at the different test series offered by the ASE.
Auto Maintenance and Light Repair Certification Test (G1)
Automobile & Light Truck Certification Tests (A Series)
Collision Repair & Refinish Certification Tests (B Series)
Damage Analysis & Estimating Certification Test (B6)
Automobile Service Consultant Certification Test (C1)
Truck Equipment Certification Tests (E Series)
Alternate Fuels Certification Test (F1)
Transit Bus Certification Tests (H Series)
Advanced Engine Performance Specialist Certification Test (L1)
Electronic Diesel Engine Diagnosis Specialist Certification Test (L2)
Light Duty Hybrid/Electric Vehicle Specialist Test (L3)
Engine Machinist Certification Tests (M Series)
Parts Specialist Certification Tests (P Series)
School Bus Certification Tests (S Series)
Medium-Heavy Truck Certification Tests (T Series)
Undercar Specialist Exhaust Systems Test (X1)
Official ASE test centers serve as the place where auto mechanics must take their certification exams. No exam will be administered at a center that is not an official test center. There are also no options to take any of these exams online. Auto mechanics are required to schedule a test date in advance and provide the necessary documentation upon arrival. Here is a look and just a few of the ASE test centers located in Florida.
Test Center #0603
West Palm Beach - South Dixie Highway
100 South Dixie Hwy
Suite 100
West Palm Beach, Florida 33401
(561) 833-5106
Test Center #0610
Miami - Ft. Lauderdale
5555 Anglers Ave
Suite 22-24
Dania Beach, Florida 33004
(954) 981-5461
Test Center #0601
Jacksonville - Philips Highway
8081 Philips Highway
Suite 21
Jacksonville, Florida 32256
(904) 739-3000   Ext 200
Test Center #7462
Prometric Satellite Center
Daytona State College
1770 Technology Blvd
Daytona Beach, Florida 32124
(386) 506-3067
Test Center #7470
Prometric Satellite Center
2900 W. Oak Ridge Rd, Bldg 500,
Test Lab 539
Mid-Florida Technical Center
Orlando, Florida 32809
(407) 251-6142
Manufacturer Certification Training in Florida
Auto mechanics have the choice of studying a specialized skill as part of their auto mechanic education. One area of concentration involves working on one specific brand vehicles. This is known as a manufacturer certification training program. Each school has the option of offering these programs, which involves training on individual car manufacturers such as Ford, BMW, Honda, and General Motors. A manufacturer certified mechanic is taught about all the nuances of cars and trucks made by one specific vehicle manufacturer. This training is typically followed up with an auto mechanic position at a facility that caters to the repair and service of one brand of vehicles. As a result, auto mechanics find themselves working for dealerships and service centers that deal with vehicles made by a sole manufacturer. Here is a look at some of the manufacturer certification training programs located throughout the state of Florida:
Honda PACT Program
Robert Morgan Educational Center and Technical College
Postsecondary/South Campus
18180 SW 122 Avenue
Miami, FL 33177
Phone: (305) 253-9920
Ford Asset Program
Seminole State College
100 Weldon Boulevard
Sanford, FL 32773
Contact: Ronda Thacker
Phone: 407-708-2230
Toyota T-Ten Program
Atlantic Technical College
4700 Coconut Creek Pkwy
Coconut Creek, FL 33063
Contact: Ken Bergmann
Phone: (754) 321-5169
Subaru University
Manatee Technical College
Main Campus
6305 State Road 70 East
Bradenton, FL 34203
Phone: 941-751-7900
Florida Auto Mechanic Salary
The state of Florida is expansive, which means there is a wide range of salaries for auto mechanics. The U.S. Bureau of Labor Statistics gathered figures that showed the median salary of an auto mechanic in Florida checks in at $35,690 per year. However, there is the potential to earn a lot more than that amount. The top 10% of auto mechanics in Florida earn an average of $60,710 annually. There is a multitude of factors that go into determining how much a Florida auto mechanic earns and that includes work experience, certifications and location. Here is a closer look at some of the differences in auto mechanic salaries by location in Florida.
Tampa
Top 10% Salary: $65,250 ($31.37 per hr)
Median Salary: $36,630 ($17.61 per hr)
Naples
Top 10% Salary: $66,360 ($31.91 per hr)
Median Salary: $40,750 ($19.59 per hr)
Tallahassee
Top 10% Salary: $61,140 ($29.39 per hr)
Median Salary: $37,750 ($18.15 per hr)
Miami
Top 10% Salary: $58,620 ($28.18 per hr)
Median Salary: $33,330 ($16.02 per hr)