The warm and sunny weather in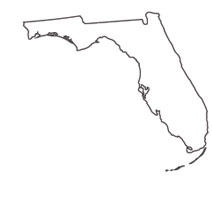 Florida allows motorcycle owners to ride during every season of the year. There is no time of year that forces riders to keep their motorcycles indoors. The annual low temperature in Florida does not fall below 55 degrees on average. That is one of the reasons why there are currently more than 582,000 motorcycles registered in the state of Florida. Only California features a higher number of registered motorcycles. There are also plenty of motorcycle events on a year-round basis in Florida, including Daytona Bike Week and numerous Bike Fests up and down the state. There is even a plethora of individual riding clubs, who often set their own rallies over the course of the year. The motorcycle community has a strong presence in Florida and it is one that continues to grow year by year.
Florida Motorcycle Mechanic Education
The path to becoming a motorcycle mechanic in Florida starts with a post-secondary education program. Through specific training, the essentials and fundamentals of motorcycle repair are relayed to students. This is done through classroom instruction that concentrates on motorcycle repair theory. The second facet of educational training involves practical instruction. This portion enables students to put the technical knowledge to use.
A motorcycle mechanic education is a way for new mechanics to enter the profession. Training programs vary in length as some are more comprehensive than others. Some training programs are classified as small engine repair and others are referred to as Powersports Technology. Here is a look at some motorcycle mechanic training programs available in the state of Florida.
University Technical Institute
UTI has introduced one of the most extensive motorcycle training programs in the country with its Motorcycle Mechanic Institute. Students can enroll in a 48-week course in motorcycle repair while there is also the option of earning individual manufacturer training from six various companies.
Orlando Campus
9751 Delegates Drive
Orlando, FL 32837
Phone: 407-240-2422
Indian River State College
The Small Engine Repair program at Indian State provides advanced training and covers a wide array of areas in small engines that apply directly to motorcycles.
3209 Virginia Ave
Fort Pierce, FL 34981
Phone: (772) 462-4772
South Tech Adult Education
The Motorcycle technology program offered by South Tech provides comprehensive training that results in the awarding of a motorcycle technician certificate.
1300 SW 30th Ave.
Boynton Beach, FL 33426
​Phone: (561) 369-7000
Florida Motorcycle Mechanic Education Admissions
The admissions process for a motorcycle mechanic education program is similar to applying for any other post-secondary program. Normally, a high school diploma or GED equivalency is required for admission. Various institutions have their own protocol when it comes to admitting new students. Those interested in entering a motorcycle mechanic training program should inquire within a specific college to learn more about the specific requirements. Once that criteria is identified and sufficed, motorcycle mechanic training can begin in a formal setting.
Motorcycle Mechanic Work Experience in Florida
Work experience for motorcycle mechanics is vital to advancing their career. This is a way to put all the theories and applications learned in a training program to use in a real-world setting. Work experience also strengthens the resume of a motorcycle mechanic. When it comes to applying for motorcycle mechanic positions, employers tend to hire those who have a greater amount of work experience. Obtaining work experience may also be done in the form of an apprenticeship, which may be offered by a specific motorcycle repair shop. The overall goal of work experience is to enhance the skills of a motorcycle mechanic. This type of training does not end when motorcycle mechanics finish their educational training. Work experience continues to be a teacher throughout the entirety of a motorcycle mechanic's career. Here is a look at just a few of the places in Florida that can provide work experience to motorcycle mechanics.
Motorcycle Manufacturer Specific Training
There are individual programs that offer manufacturer specific training in motorcycle repair. That means students are taught the details of repair and service on a specific brand of motorcycles. The state of Florida is home to one of the most comprehensive manufacturer specific training programs anywhere in the country. This is known as the MMI (Motorcycle Mechanics Institute in Orlando.
Motorcycle Mechanics Institute
This is a division of the Universal Technical Institute, which is set in Orlando. The MMI features six individualized training programs in which students learn the specifics of repair on a particular brand of motorcycles. The MMI offers manufacturer specific training for the following manufacturers:
The MMI is part of Universal Technical Institute that staffs one of the largest team of motorcycle repair instructors anywhere in the nation. Below is the location of the Motorcycle Mechanic Institute in Florida:
9751 Delegates Drive
Orlando, FL 32837
Phone: 407-240-2422
Florida Motorcycle Mechanic Salary
Motorcycle mechanics in Florida claim different yearly salaries, and much of that is based upon location. An annual salary amount has a lot to do with prior training, work experience and overall credentialing. Some motorcycle mechanics make higher salaries because of their track record in the industry. Meanwhile, some motorcycle repair shops demand higher prices from their customers and that is mainly because of the type of services offered. Customizations are more expensive than general repair and shops that feature higher-end services can afford to pay their mechanics higher salaries. The U.S. Bureau of Labor Statistics reported that the median salary of a Florida motorcycle mechanic is $33,120 per year. Those statistics also report that the top 10% of Florida motorcycle mechanics earn an average salary of $51,850 per year. Here is a look at a breakdown of those numbers by location.
Miami
Top 10% Salary: $69,890 ($33.60 per hr)
Median Salary: $39,820 ($19.14 per hr)
Tampa
Top 10% Salary: $64,670 ($31.09 per hr)
Median Salary: $33,950 ($16.32 per hr)
Orlando
Top 10% Salary: $45,620 ($21.76 per hr)
Median Salary: $33,720 ($16.21 per hr)
West Palm
Top 10% Salary: $48,050 ($23.10 per hr)
Median Salary: $33,820 ($16.26 per hr)
Florida Motorcycle Mechanic Employment Trends
The number of motorcycle mechanics in Florida is increasing at a dramatic rate. Each year, no other state introduces more new motorcycle mechanics to full-time positions than Florida. The numbers continue to maintain a high level of consistency. For the 10-year period between 2014 and 2024, there is expected to be a 26% growth in motorcycle mechanic jobs. Even though a couple of older motorcycle mechanic training programs in Florida recently shut their doors, it has not impacted job growth. There is a high demand for motorcycle repair in Florida and that is not limited to one specific area. Finding employment as a Florida motorcycle mechanic is a way of creating job stability for years to come, as indicated by the latest employment trends.
Motorcycle Mechanic Certification
When it comes to working as a motorcycle mechanic in the state of Florida, a certification is not needed. There are also no statewide requirements that motorcycle mechanics need to follow. Employers are entrusted with the task of setting their own standards for the hiring process. Certifications are available in different forms, and they could be classified as the certificates that are awarded to graduates of a motorcycle mechanic education program.
There is also an industry-wide certification offered by the Equipment & Engine Training Council (EETC). This organization certifies individuals who show a knowledge level that shows them to be skilled in small engine repair. Since motorcycle mechanics conduct small engine repair, an EETC certification can provide a great deal of value. This helps when looking to gain employment or when attempting to negotiate a higher pay rate. While certifications may not be an industry norm, they do establish a certain level of credibility.
Motorcycle repair is unlike auto repair in that there are limited certifications available. The National Institute for Automotive Service Excellence (ASE) does not provide any form of certification for mechanics who specialize in motorcycle repair. Even though there are similarities between auto mechanic service and motorcycle mechanic service, there has yet to be any formal certifications issued by the ASE to motorcycle mechanics.