One of the biggest benefits of buying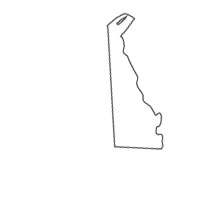 vehicles in Delaware is that there is no sales tax. While it is not the largest state, vehicle owners can enjoy big savings in many regards. There is also a steady growth of jobs for auto mechanics within the state of Delaware. The U.S. Bureau of Labor Statistics shows that job growth has been consistent in Delaware over the last few years and is expected to remain that way through the year 2024. This bodes very well for those interested in becoming an auto mechanic in Delaware. The earning potential throughout the state is also higher than a host of other states and since the cost of living is lower than the surrounding states, there is big potential for auto mechanics in Delaware.
Delaware Auto Mechanic Education
Auto mechanic education in the state of Delaware can be pursued through a couple of different routes. There is the option of attending a post-secondary school that offers a two-year Associate Degree program. There is also the option of earning a technical certificate, diploma, or certificate of completion from a post-secondary school. Each school sets its own admissions and curriculum requirements, as well its own tuition fees.
The function of an auto mechanic education is to provide students with technical knowledge, in addition to hands-on knowledge of auto repair. That combination prepares future auto mechanics to step right into an entry level position. Here are some of the auto mechanic educational avenues that can be pursued in the state of Delaware.
The Automotive Technology program at Del Tech features an Associate Degree of Applied Science option as well as manufacturer specific training. The program offers classes at both the Georgetown and Stanton campuses. Here is a look at each of those locations:
Stanton Campus
400 Stanton Christiana Rd.
Newark, DE 19713
Phone: (302) 454-3900
Georgetown Campus
21179 College Dr.
Georgetown, DE 19947
Phone: 302-855-5921
There is a pair of courses offered as part of the Auto Technology program at James H. Groves, which is located in Wilmington. Apprenticeships and technical training are also facilitated by the school.
Marshallton Education Center
1703 School Lane
Wilmington, DE 19808
Phone: (302) 683-3642
Auto Mechanic Work Experience in Delaware
Delaware EPA 609-Refrigerant Certification
Auto mechanic education and training in an accredited program does not certify mechanics to work on motor vehicle air conditioner (MVAC) units. There is a separate protocol required for this right. The EPA (Environmental Protection Agency) has set up a 609-refrigerant certification that is issued to auto mechanics who earn a score of 84% or better on a 609-Refrigerant Certification exam. Earning this certification allows auto mechanics to also purchase regulated refrigerants. This certification was established to ensure safe handling of refrigerants, which can be toxic to the environment and individuals. Auto repair shops must make sure that all their auto mechanics who provide MVAC service are certified or they could face penalties and fines. Preparing for a certification exam can be helped by participating in a training program. Most programs do not last very long and do not require actual attendance at an on-site location. Herr are a few 609-refrigerant certification training programs available to auto mechanics.
ESCO Institute
P.O. Box 521
Mount Prospect, IL 60056
Phone: (847) 253-2220
ASE Certifications in Delaware
The National Institute for Automotive Service Excellence (ASE) is an entity that is at the forefront of the automotive repair industry. The ASE distributes certifications to auto mechanics who have displayed an exemplary knowledge level in certain areas. There are many different ASE certifications to choose from, but all require a certain amount of work experience. All certifications also require a passing score on the respective certification examinations. Once a certification is earned, it can be used to build an auto mechanic's credibility.   That can open up the opportunity for increased pay and better job situations. Each ASE certification is good for five years and the recertification process involves taking another exam, which is only about half as long as the original. Here is a look at some of the test series featured by the ASE:
Auto Maintenance and Light Repair Certification Test (G1)
Automobile & Light Truck Certification Tests (A Series)
Collision Repair & Refinish Certification Tests (B Series)
Damage Analysis & Estimating Certification Test (B6)
Automobile Service Consultant Certification Test (C1)
Truck Equipment Certification Tests (E Series)
Alternate Fuels Certification Test (F1)
Transit Bus Certification Tests (H Series)
Advanced Engine Performance Specialist Certification Test (L1)
Electronic Diesel Engine Diagnosis Specialist Certification Test (L2)
Light Duty Hybrid/Electric Vehicle Specialist Test (L3)
Engine Machinist Certification Tests (M Series)
Parts Specialist Certification Tests (P Series)
School Bus Certification Tests (S Series)
Medium-Heavy Truck Certification Tests (T Series)
Undercar Specialist Exhaust Systems Test (X1)
In order to take an ASE examination, auto mechanics must visit an official ASE test center in the state of Delaware. When visiting a test center, auto mechanics are asked to bring with them certain identification and documentation. There is also the need to follow the ASE protocol when scheduling an ASE exam. Test dates must be pre-set and arranged to be taken at a specific location. Here is a look at the ASE official test centers located in Delaware.
Test Center #7117
Prometric Satellite Center
21179 College Dr, Room 179
Delaware Technical Community College
Georgetown, Delaware 19947
(302) 259-6376
Test Center #5130
Wilmington - New Castle
100 West Commons Blvd
Suite 430, One Corporate Commons
New Castle, Delaware 19720
(302) 221-1441
Test Center #7127
Prometric Satellite Center
Delaware State University
1200 N DuPont Hwy, Thomasson Bldg, Ste 202
Dover, Delaware 19901
(302) 857-6143
Manufacturer Certification Training in Delaware
Manufacturer certification training programs are designed by car companies for the purpose of instructing auto mechanics on the service and repair of their vehicles. This applies to all makes and models. However, not every auto mechanic education program offers manufacturer certification training. It is up to each school to decide whether or not it will feature this type of training. Those who do enroll in one of these programs will receive specific training that builds upon general automotive repair. This can lead to auto mechanic positions at a service center or dealership that services only one brand of vehicles. Auto mechanics can choose from manufacturer certification programs such as BMW, Ford, Audi and more. Delaware is home to just one manufacturer specific training program, which is listed below.
Ford Asset Program
Delaware Technical Community College
Georgetown Campus
21179 College Dr.
Georgetown, DE 19947
Phone: 302-855-5921
Contact: Mark Swarbrick
Email:mswarbri@college.dtcc.edu
Delaware Auto Mechanic Salary
The state of Delaware is one of the smallest states in the country, although there is a varying range of earning potential for auto mechanics. Some parts of the state are home to higher paying annual salary amounts than others. Much of that depends upon the type of auto repair shop. Some are able to charge higher rates, while others can pay more because of an increase volume of business. An auto mechanic's work experience and certification level can also play a role in determining a total annual salary. Here is a look at the state average for Delaware, as well as some averages for different cities around the state. These amounts were gathered by the U.S. Bureau of Labor Statistics.
State of Delaware
Top 10% Salary: $61,380 ($29.51 per hr)
Median Salary: $38,580 ($18.55 per hr)
Dover
Top 10% Salary: $58,300 ($28.03 per hr)
Median Salary: $36,850 ($17.72 per hr)
Wilmington
Top 10% Salary: $62,960 ($30.27 per hr)
Median Salary: $41,200 ($19.81 per hr)