The popularity of the motorcycle in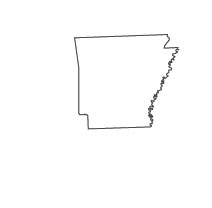 Arkansas continues to grow, as there are more registered motorcycles, more bike events and more revenue in this industry each year. In the state of Arkansas, there is a helmet law that applies only to riders 21 years of age or under. Adults over 21 do not need to comply with the helmet law. The are currently over 90,000 registered motorcycles in the state of Arkansas and many enthusiasts take advantage of the scenic routes throughout the state. Some of the more popular motorcycle routes in Arkansas include Route 10's Twisted Lady and the Hamburg Haul, which canvasses the southern part of the state. Motorcycle enthusiasts have plenty of company in Arkansas and that does not look like it is going to slow down at any point in the near future.
Arkansas Motorcycle Mechanic Education
Starting off a career as a motorcycle mechanic in Arkansas will take individuals through a form of educational training. Numerous colleges offer programs that teach aspiring motorcycle mechanics what they will need to know to acquire an entry-level position. Some schools have more comprehensive programs, while others offer basic courses that will help new mechanics grasp the fundamentals of motorcycle repair.
Each program offers different certificates to those who complete the required coursework. Course requirements are set by each individual institution and students can use those credentials to obtain employment at a motorcycle repair shop in Arkansas. This is a way for future auto mechanics to build a basic understanding of the motorcycle repair industry. Here are some programs offered in Arkansas that will help students get acclimated to the essentials of motorcycle repair.
Pulaski Technical College
Affiliated with the University of Arkansas, Pulaski Tech features a Power Sports Technology program that provides students with the training to become skilled in motorcycle repair. There are a couple of different certificate options available, each of which take two full semesters to complete.

3000 West Scenic Drive
North Little Rock, AR 72118
Phone: (501) 812-2200             

Cossatot Community College
There are a pair of small engine repair courses offered which has been derived from the Briggs and Stratton Authorized Field Service School, which features one of the top small engine repair programs in the entire industry.

183 College Drive
De Queen, AR 71832
Phone: (870) 584-4471
Arkansas State University - Bebe
The Bebe campus of ASU features a Power Sports Program that concludes with the awarding of a technical certificate. The program consists of seven separate courses under the Power Sports Technology distinction.

1000 W Iowa Street
Beebe, AR 72012
Phone: (501) 882-3600

College of Ouachitas
There are small engine repair courses offered at the College of Oauchitas which can help springboard the career of aspiring motorcycle mechanics.

One College Circle
Malvern, AR 72104
Phone: (501) 337-5000
Arkansas Motorcycle Mechanic Education Admissions
The admissions process that grants access to a post-secondary school that offers motorcycle technology training is one that does not come with too many stringent demands. It is typically a simple process and most programs require applicants to have a minimum of a high school diploma or GED equivalency. Some repair classes can even be taken without having attained either of those two credentials. There is also no need for any additional post-secondary training prior to enrolling in a program that offers motorcycle repair training. Most programs enroll students who are at least 18 years old, although there is no statewide mandate on a minimum age.
Motorcycle Mechanic Work Experience in Arkansas
Work experience as a motorcycle mechanic in Arkansas cannot be overstated. This is an important facet of the learning process as new motorcycle mechanics require field experience which allows them to put their skills to proper use. Work experience also helps motorcycle mechanics build their skill level and technical knowledge. This can translate into higher pay rates and those motorcycle mechanics who are able to negotiate increases can do so on the strength of their prior work experience. A portion of motorcycle repair shops will only hire those with a certain level of work experience. New mechanics may acquire part-time positions or apprenticeships to gain relevant experience. However, the more educational training a motorcycle mechanic receives, the greater the chances become of obtaining a quality full-time position. Work experience is available at a variety of locations throughout the state of Arkansas and here is a list of some shops that could prove to be a future work setting for motorcycle mechanics.
Big Bore Bikes
908 E Johnson Ave
Jonesboro, AR 72401
Phone: (870) 934-8221
Motorcycle Manufacturer Specific Training
Motorcycle repair training is available on specific brands of motorcycles, and this allows mechanics to gain an upgraded knowledge of that specific brand of bikes. Training of this nature allows motorcycle mechanics to get an in-depth education on a certain manufacturer's line of motorcycles. Diagnosing engine issues on certain brands of motorcycles is a skill that is valued a great deal by motorcycle repair shops. Training of this kind can also place motorcycle mechanics in a work setting where the repair and service caters to one brand of bike. Here is a look at the various manufacturers that offer training on their line of motorcycles.
Harley Davidson
Kawasaki
Yamaha
BMW
Suzuki
Honda
Arkansas Motorcycle Mechanic Salary
Some states have higher pay rates for motorcycle mechanics. Arkansas is not among the leaders in this category, although the cost of living in Arkansas is much cheaper than many other states. That fact should not be overlooked when comparing motorcycle mechanic salaries on a state to state basis. However, that does not mean there is a limit to the earning potential of a motorcycle mechanic. Some motorcycle mechanics even go into business for themselves and can make a very comfortable living on an annual basis. The U.S. Bureau of Labor Statistics has compiled data that shows the median and top salaries for motorcycle mechanics in every state. Here is a look at the statewide numbers for motorcycle mechanics in Arkansas.
State of Arkansas
Top 10% Salary: $39,390 ($18.94 per hr)
Median Salary: $26,750 ($12.86 per hr)
Little Rock
Top 10% Salary: $42,250 ($20.31 per hr)
Median Salary: $30,140 ($14.49 per hr)
Fayetteville
Top 10% Salary: $40,740 ($19.58 per hr)
Median Salary: $29,065 ($13.07 per hr)
West Arkansas
Top 10% Salary: $48,960 ($23.54 per hr)
Median Salary: $21,840 ($10.50 per hr)
Arkansas Motorcycle Mechanic Employment Trends
Each year in the state of Arkansas, there are new positions opening up for motorcycle mechanics. Each year, there is an average of more than 4% job growth. The number of motorcycle mechanics continues to increase and even with older mechanics retiring, there is expected to be a 10% surge in Arkansas motorcycle mechanics by the year 2024. This is also related to the growth that has been reported by motorcycle repair businesses. The upward trend in profits translates into an upward trend in pay rates. That has equated to a favorable future for Arkansas motorcycle mechanics. With statewide interest expanding, employment trends are expected to remain on the rise.
Motorcycle Mechanic Certification
A motorcycle mechanic does not have to hold a universal certification to gain employment in the state of Arkansas. Motorcycle shop owners decide on who they hire and what counts for an acceptable level of training and experience. The motorcycle repair industry does not have certifications the same way that auto repair industry does. The National Institute of Automotive Service Excellence (ASE) does not certify motorcycle mechanics.
There are certifications that can be earned in motorcycle repair. The Equipment & Engine Training Council (EETC) is the entity entrusted with certifying individuals in small engine repair. Motorcycle mechanics fall under this distinction as certifications extend to two, three and four-stroke varieties. Earning a certification of this nature shows a motorcycle mechanic's commitment to Excellence while also enhancing the overall level of technical skill.
Arkansas has not established any state guidelines that require motorcycle mechanics to be certified. Some educational training programs offer certifications upon the completion of their coursework. This can also pass for an acceptable means of experience and training when applying for a motorcycle mechanic position. A certification in this industry signifies that a motorcycle mechanic has put in the time and effort to improve his/her skillset. That is ultimately what will endear a motorcycle mechanic to employers, customers and their fellow mechanics.