Temperate weather in the southern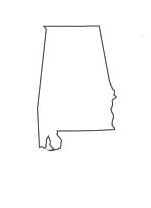 part of the country makes Alabama a prime location for motorcycle enthusiasts. Within the state of Alabama, there are more than 109,000 registered motorcycles and countless others passing through the state. It should also be noted that Alabama has a motorcycle helmet law that is strictly enforced. There are also lane sharing, footwear and passenger laws that every motorcycle operator should know in Alabama. The Natchez Trace Parkway and Jasmine Hill Road are two of the top motorcycle routes in Alabama, as there are plenty of highway paths that makes for great travel. Motorcycle enthusiasts can also check out the Barber Vintage Motorsports Museum in Birmingham, which is considered one of the finest motorcycle museums anywhere in the world.
Alabama Motorcycle Mechanic Education
The path to becoming a motorcycle mechanic in Alabama starts with acquiring the right type of training. Motorcycle mechanic education programs have different titles as some programs are called small engine repair. These programs all focus on the essentials of the specific methods of repair used on small engines used in motorcycles. Students learn through a combination of classroom work and hands-on instruction. This type of instruction allows mechanics to develop skills and techniques used to repair all types of equipment powered by smaller engines. Most motorcycle and small engine training programs take less than a year to complete and award students a non-credit diploma or a technical certificate. However, there are some programs that offer an Associate Degree in Motorcycle Repair. This typically involves more in-depth instruction and takes two years to complete when students attend on a full-time basis. Students learn how to diagnose engine issues, how to mount and balance motorcycles, the process of dismantling engines, the ways to examine ignition points and much more. Here is a look at the motorcycle mechanic education programs located in Alabama.
Wallace Community College
The Career and Technical Education Division at Wallace offers fourteen programs of study, which includes small engine repair and awards graduates a short certificate. There are two options to choose from in the area of small engine repair.

Wallace Campus
1141 Wallace Drive
Dothan, AL 36303
Contact: Tim Price
E-mail: tprice@wallace.edu
Phone: (334) 983-3521
Jefferson Davis Community College
The Small Engine Repair program at Jefferson Davis is offered at the Fountain Campus as part of its Adult Education program. Students can complete this program in less than a year and be fast tracked into the motorcycle repair industry.
220 Alco Drive
Brewton, AL 36426
Contact: Lavon Smith
Phone: 251-809-7661
Email: lavon.smith@jdcc.edu
Alabama Motorcycle Mechanic Education Admissions
Most Alabama motorcycle mechanics hold at least a high school diploma or GED equivalency. Either of those distinctions paves the way for the ability to comprehend the coursework taught in a motorcycle mechanic education program. More than 80 percent of Alabama motorcycle mechanics have acquired some type of educational training beyond the high school level. This is available through post-secondary school training in a technical setting. In order to take full advantage of this training, mechanics should have a basic understanding of the fundamental principles they will need to grasp when it comes to motorcycle repair.
Motorcycle Mechanic Work Experience in Alabama
Motorcycle repair gets better with practice and that is why it is important for new mechanics to improve their skills with actual work experience. This helps to build credentials while also encountering repair issues that may have been nothing more than theory during motorcycle mechanic educational training. Work experience is often required before attaining a full-time position. Some motorcycle mechanics undergo apprenticeships while others may be considered part-time employees until they have logged a certain amount of experience. Work experience also helps mechanics on the pathway to continuing education. Here is a look at some repair shops that could be potential places of employment for motorcycle mechanics in Alabama.
Tech 46
2620 6th Ave S
Birmingham, AL 35233
Phone: (205) 583-4640
Motorcycle Manufacturer Training
The majority of motorcycle training programs teach general repair, which can be used on all types of motorcycles. However, there is the option of learning the finer points of repair on specific brands of motorcycles. Companies like Harley Davidson tend to employ mechanics who have been trained to work primarily on those types of bikes. Meanwhile, there are different types of Kawasaki motorcycles designed for both sport and leisure use. Knowing the differences of repair on those Kawasaki motorcycles requires specific training. There are individual schools that offer Harley Davidson training along with specific training on other brands of motorcycles. Here is a look at some of the manufacturers that feature individualized training programs:
Harley Davidson
Kawasaki
Suzuki
Honda
BMW
Yamaha
Alabama Motorcycle Mechanic Salary
Throughout the state of Alabama, there is a lot of earning potential for motorcycle mechanics. Pay rates fluctuate within the state and a lot of that has to do with location. The U.S. Bureau of Labor Statistics estimates the median salary of an Alabama motorcycle mechanic to be $34,230 per year. That amount is not the maximum as there are many motorcycle mechanics in Alabama who earn more than that median salary. The top 10% of motorcycle mechanics in Alabama earn an average salary of $52,950 annually. Much of that pay rate has to do with the location of a repair shop and the extent of repair, service and custom work that is being done. Work experience also plays a factor in the determination a mechanic's salary. Here is a look around the state of Alabama at some of the average salaries for motorcycle mechanics, according to location.
Birmingham - $32,430
Huntsville - $41,390
Montgomery - $33,210
Mobile - $38,360
Dothan -$26,270
Alabama Motorcycle Mechanic Employment Trends
The number of motorcycle mechanics in Alabama is increasing each year. That trend is proving consistent as there is more of a demand for motorcycle repair. That has translated into more repair shops opening while existing ones are continually increasing the size of their staff. There is almost a 5% increase in motorcycle mechanic jobs each year in Alabama. Those numbers are expected to continue over the course of the next six years. Most Alabama motorcycle mechanics find work in shops specifically designed for motorcycle repair. Other mechanics find work in motorcycle dealerships and some even work in auto repair shops that cater to the service and repair of motorcycles.
Motorcycle Mechanic Certification
There is no required certification in Alabama for motorcycle mechanics. However, completing an educational program can earn mechanics a certificate that can be used to gain employment. The National Institute for Automotive Service Excellence (ASE) certifies mechanics who repair automobiles and trucks, although this organization does not issue certifications for motorcycle repair. There is no ASE affiliation with motorcycle mechanics.
There is an industry-wide certification available for motorcycle mechanics and it is issued by the Equipment & Engine Training Council. This is recognized throughout the industry as the EETC has become a popular name among motorcycle mechanics. There are two, three and four stroke certifications offered by the EETC, in addition to a master technician certification. Earning a certification from the EETC shows a deeper understanding of motorcycle repair and a greater overall technical knowledge.
The state of Alabama has no governing body that requires motorcycle mechanics to hold a certification. However, the hiring process is simplified to a certain extent when a mechanic holds an EETC certification. Employers typically seek out motorcycle mechanics who can show a higher level of credibility. Certifications from the EETC provide upgrade a mechanic's status and often boost them up in the hiring process. This could move a motorcycle mechanic to the front of the line when applying for a position in Alabama.